Visitor Center Museum Closed During Construction Project

The museum at the Henry Hill Visitor Center is closed due to the installation of a fire protection system in the exhibit area. The visitor center and gift shop remain open daily and the park film is shown hourly. More »
Public Meeting: Fire Management Plan Environmental Assessment Public Scoping

Tuesday, March 4, 2014 6:00 PM- 8:00 PM Manassas National Battlefield Park Visitor Center 6511 Sudley Road Manassas, VA 20109 More »
Management
The mission of Manassas National Battlefield Park is to preserve the historic landscape containing historic sites, buildings, objects and views that contribute to the national significance of the First and Second Battles of Manassas, for the use, inspiration and benefit of the public.
Please explore this section to learn how park management and staff are planning for the future of the park and developing initiatives to meet these goals and create the next generation of stewards of these valuable park resources.

Did You Know?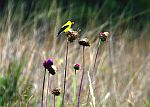 Manassas National Battlefield Park has been recognized by the National Audubon Society as an Important Bird Area. The park is home to over 160 species of birds, half of which are migratory.