Visitor Center Museum Closed During Construction Project

The museum at the Henry Hill Visitor Center is closed due to the installation of a fire protection system in the exhibit area. The visitor center and gift shop remain open daily and the park film is shown hourly. More »
Witness Trees
Photo by: Alison Sloop
At Manassas National Battlefield, A "Witness Tree" is a tree that was alive during the key events of the First and Second Battles of Manassas. This means that these trees must be over 150 years old. Park staff, with the help of a girl scout dedicated to completing her Gold Award project, identified several Witness Trees in the Battlefield along our trails systems. Will you be able to discover them all as you journey through the park?
Photo by: Mariah Michael
The Witness Trees were located using historic maps and photos, aerial photography, and increment boring sample collection. Increment boring is a process of extracting a very small sample of a tree core with very little impact to the tree. The core sample is then analyzed by counting rings to estimate the age of the tree.
Did You Know?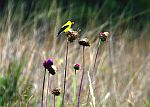 Manassas National Battlefield Park has been recognized by the National Audubon Society as an Important Bird Area. The park is home to over 160 species of birds, half of which are migratory.