Visitor Center Museum Closed During Construction Project

The museum at the Henry Hill Visitor Center is closed due to the installation of a fire protection system in the exhibit area. The visitor center and gift shop remain open daily and the park film is shown hourly. More »
Wildflowers
NPS Photo
Wildflowers are angiosperms, meaning that they are vascular, flowering plants that produce seed. Blooming wildflowers acquaint one's senses with the coming of spring at Manassas National Battlefield. Persisting through the open fields and under the forest canopies, the wildflowers provide breathtaking views and enchanting smells throughout the park.
Please do not pick the wildflowers! Picking wildflowers not only denies others the opportunity to admire their beauty, but it also threatens the existence of the plant and is illegal in all National Park units. It is also illegal to collect seeds from wildflowers.
NPS Photo
Common milkweed is crucial to the life of monarch butterflies. Monarch's are tolerant to the toxins in the milky sap of the plant and feed on milkweed during their larval stage. As the butterflies accumulate the toxins, they become bitter and undesirable to predators.
Did You Know?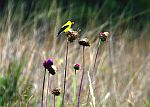 Manassas National Battlefield Park has been recognized by the National Audubon Society as an Important Bird Area. The park is home to over 160 species of birds, half of which are migratory.