Visitor Center Museum Closed During Construction Project

The museum at the Henry Hill Visitor Center is closed due to the installation of a fire protection system in the exhibit area. The visitor center and gift shop remain open daily and the park film is shown hourly. More »
Wetlands and Seeps
NPS Photo
Over 200 acres of wetlands have been mapped at Manassas National Battlefield. This includes both forested and herbaceous wetlands. Some herbaceous wetlands are currently undergoing succession to forested wetland. In general, forest tree species composition changes slowly in response to hydrological alterations while herbaceous vegetative composition often responds quickly to hydrological change. Year to year variation in precipitation affects the boundaries of wet meadow wetlands.
References:
Loomis, D.T. and K.E. Heffernan. 2003. Classification and Mapping of Wetlands at Manassas National Battlefield Park, Virginia: Brawner Farm and Matthews Hill Tracts. Natural Heritage Technical Report 03-21. Virginia Department of Conservation and Recreation, Division of Natural Heritage, Richmond, VA. Unpublished report submitted to the National Park Service. 8 pp.
Did You Know?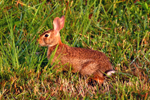 Small mammal trapping is one way our Natural Resource Management team monitors the ecosystems and environmental conditions of the park. Frequent catches include mice, voles, and flying squirrels.