NPS Photo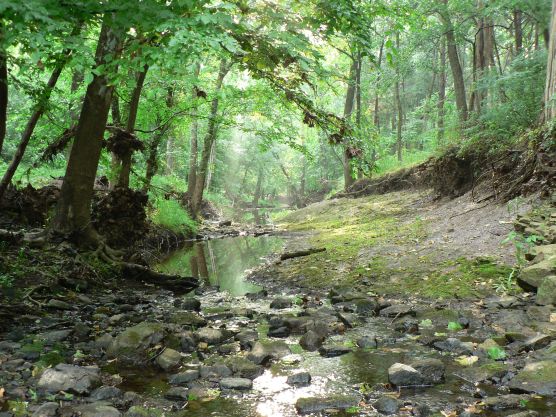 NPS Photo
Manassas National Battlefield is underlain by sedimentary, metasedimentary, and igneous rocks of Triassic and Jurassic age. Siltstone of the Ball's Bluff Formation is the most extensive bedrock type in the area. This material is a red to purplish-brown, iron-rich, micaceous siltstone with thin to medium bedding that tends to produce platy to slab-like fragments when weathered. Calcium is abundant in concretions, veins, and cement. Minor interbeds of red silty shale and arkosic sandstone are also present. This formation constitutes the parent material of almost all soils in the eastern half of the park (Leavy et al 1983, Lee 1977).
The western half of the Park contains substantial areas underlain by intrusive diabase, which occurs in irregular dikes, stocks, and sills. This diabase is a dense, medium-grained, dark-gray to black mafic, igneous rock composed primarily of feldspar and pyroxene (Lee 1979). This bedrock is well expressed in a narrow dike that originates near Wellington to the south of MNBP and extends northward through the Park, passing west of Groveton and ending just SE of Sudley. Other diabase intrusions are located in the vicinity of Stuarts Hill, south of Battery Heights, and on the ridge east of Brawner Farm (Leavy et al. 1983). The soil survey for Prince William County (Elder 1989) indicates that soils derived from diabase are also located in the vicinity of Bald Hill. Thick, residual soils cover most diabase intrusions but often contain spheroidally weathered boulders at the surface.
Thermally metamorphosed sedimentary rocks surround the diabase intrusive bodies (Lee 1979). Bands of these rocks are generally less than 0.5 km wide within the Park and often much narrower. They are composed of red-brown siltstone and shale hornfels that have been altered under intense heat and pressure. Metamorphic minerals such as epidote, cordierite, pyroxene, and garnet are common along joints or fractures (Leavy et al. 1983).
---
Geologìa
Manassas National Battlefield está sustentada por rocas ígneas, sedimentarias y metasedimentary de edad Triásico y el Jurásico. Silestone de formación Bluff de la bola es el tipo de roca más extenso en el área. Este material es un tinto de color marrón, ricos en hierro, micácea Silestone con fino medio del lecho que tiende a producir platy o fragmentos de losa-como cuando soportó. El calcio es abundante en las concreciones, las venas y cemento. Rocas del interior menores de rojo arcilloso pizarra y piedra arenisca arcosas también están presentes. Esta formación constituye el material parental de casi todos los suelos en la oriental la mitad del parque (Leavy et al. 1983, Lee 1977).
La mitad occidental del parque contiene las áreas substanciales sustentadas por diabasa intrusiva, que ocurre en diques irregulares, acciones y travesaños. Este diabasa es una densa, de grano medio, gris oscuro a negro máfico, roca ígnea compuesta principalmente de feldespato y piroxeno (Lee 1979). Esta roca se expresa bien en un estrecho dique que se origina cerca de Wellington, al sur de MNBP y se extiende hacia el norte a través del parque, pasando al oeste Groveton y terminando al sur de Sudley. Otras intrusiones diabasa se encuentran en las cercanías de Stuarts Hill, al sur de las alturas de la batería y en la cresta al este de Clover Farm (Leavy et al., 1983). El estudio de suelos para Prince William County (Elder 1989) indica que los suelos derivados de diabasa también se encuentran en las cercanías de Careca. Espesor, suelos residuales cubren la mayoría de las intrusiones diabasa pero a menudo contienen rocas spheroidal degradados en la superficie.
References:
Elder, J.H. 1989. Soil survey of Prince William County, Virginia. U.S.D.A. Soil Conservation Service in cooperation with Virginia Polytechnic Institute and State University. U.S. Government Printing Office, Washington, D.C. 245 pp. plus maps.
Fleming, G.P. and J.T. Weber. 2003. Inventory, classification, and map of forested ecological communities at Manassas National Battlefield Park, Virginia. Natural Heritage Tech. Rep. 03-7. Virginia Department of Conservation and Recreation, Division of Natural Heritage, Richmond. Unpublished report submitted to the National Park Service. 101 pp. plus appendix.
Leavy, B.D., A.J. Froelich, and E.C. Abram. 1983. Bedrock map and geotechnical properties of rocks of the Culpeper basin and vicinity, Virginia and Maryland. scale: 1:125,000. Map 1-1313-C. U.S. Geological Survey, Reston, VA.
Lee, K.Y. 1977. Triassic stratigraphy in the northern part of the Culpeper basin, Virginia and Maryland. U.S. Geological Survey Bulletin 1422-C, 17 p.
Lee, K.Y. 1979. Triassic-Jurassic geology of the northern part of the Culpeper basin, Virginia and Maryland. U.S. Geological Survey Open-File Report 79-1557, 29 pp., 16 pl., scale: 1:24,000.