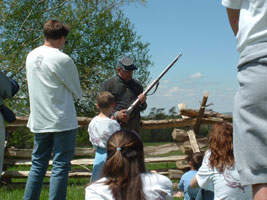 NPS photo
The park requests that all large group tours notify us before coming to visit. We receive lots of requests from school groups and bus tours to visit the park, particularly in the spring. We want you to have a pleasant and enjoyable experience without having to compete with other large groups, so scheduling is the key.
To Make Reservations:
Please contact the park Visitors Center:
phone: (703) 361-1339
email: email us
Guided tours and educations programs require advance reservations. Please contact the park at least one month before your planned visit to reserve a date and time. Tour slots are limited and fill up quickly.
When reserving a program, please provide the following information:
School name
contact person
mailing address
telephone number
email (if available)
type of program requested
grade level
number of students
number of adults/chaperones
any special needs/requirements.
All guided tours require a 1:10 adult to student ratio.
Fee Waiver and Exemption Information:
The park charges an entrance fee of $3.00 per person (16 years of age and older). Children under 16 are free. The park entrance pass is good for three consecutive days. If your group is participating in an educational program offered by the park, the entrance fee is waived for all adults accompanying the group. Also, if you are visiting with your students on a self-guided basis, a fee waiver can be obtained for your group.