Visitor Center Museum Closed During Construction Project

The museum at the Henry Hill Visitor Center is closed due to the installation of a fire protection system in the exhibit area. The visitor center and gift shop remain open daily and the park film is shown hourly. More »
Public Meeting: Fire Management Plan Environmental Assessment Public Scoping

Tuesday, March 4, 2014 6:00 PM- 8:00 PM Manassas National Battlefield Park Visitor Center 6511 Sudley Road Manassas, VA 20109 More »
January 1 Living History
Join park staff on January 1, 2013, for artillery and musketry firings to herald a new year. Staff and volunteers will demonstrate the drill and firing of a 10-pounder Parrott Gun, as well as demonstrate the firing of smoothbore and rifle muskets. All programs take place on Henry Hill behind the Visitor Center.
Schedule of Firings:
12:30 p.m. : Musketry
1:00 p.m. : Artillery
1:30 p.m. : Musketry
2:00 p.m. : Artillery


Did You Know?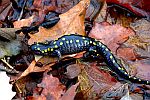 The park is home to a large vernal pool, located on the Stone Bridge Loop Trail. In the spring, this area fills with about a foot of water, and becomes a vital breeding ground for amphibian species.