Visitor Center Museum Closed During Construction Project

The museum at the Henry Hill Visitor Center is closed due to the installation of a fire protection system in the exhibit area. The visitor center and gift shop remain open daily and the park film is shown hourly. More »
Curriculum Materials
Manassas National Battlefield Park is working to provide educators with classroom materials and resources to assist in teaching students of all ages about the battles of Manassas and the Civil War. We also offer information on natural resources and environmental education studies.
Click on the links above to learn more:
Baptism of Fire (4th-6th grades)
War for Freedom (7th-8th grades)
We are proud to introduce Manassas National Battlefield's TRACK Trail. Manassas National Battlefield and TRACK Trails offer great learning materials on natural resources for kids as they enjoy a walk around the 1.4 mile Stone Bridge Loop trail.
Click here for more information on TRACK Trails at Manassas National Battlefield.
Did You Know?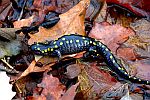 The park is home to a large vernal pool, located on the Stone Bridge Loop Trail. In the spring, this area fills with about a foot of water, and becomes a vital breeding ground for amphibian species.