Visitor Center Museum Closed During Construction Project

The museum at the Henry Hill Visitor Center is closed due to the installation of a fire protection system in the exhibit area. The visitor center and gift shop remain open daily and the park film is shown hourly. More »
Public Meeting: Fire Management Plan Environmental Assessment Public Scoping

Tuesday, March 4, 2014 6:00 PM- 8:00 PM Manassas National Battlefield Park Visitor Center 6511 Sudley Road Manassas, VA 20109 More »
For Kids
Manassas National Battlefield Park is pleased to announce the introduction of TRACK Trails. Come by and explore the Stone Bridge Loop Trail for a self guided, outdoor adventure. The Manassas National Battlefield TRACK Trail is open year-round. The trail head is located in the Stone Bridge parking area and features the first ever cell-phone guided brochure adventure. After hiking the TRACK Trail, register your adventure at www.kidsinparks.com to earn free prizes.
Check out the NEW Manassas National Battlefield Park Junior Ranger book for ages 5 and up!



Did You Know?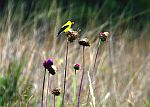 Manassas National Battlefield Park has been recognized by the National Audubon Society as an Important Bird Area. The park is home to over 160 species of birds, half of which are migratory.