Donate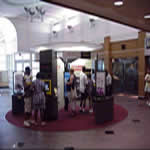 NPS Photo/Linda Byers
Martin Luther King, Jr. National Historic Site accepts donations. Through the generosity of public support we can further enhance park programs which include the changing exhibition program for the D.R.E.A.M Gallery, our community outreach programs, ranger guided programs, educational programs, and the maintenance of historically significant structures we operate and manage.
Donations may be made by check or money order, payable to "National Park Service" and mailed to:
National Park Service
Martin Luther King, Jr.
National Historic Site
Superintendent
450 Auburn Avenue, NE
Atlanta, Georgia 30312
Visitors can also contribute directly to the park by using the donation boxes located inside of the Visitor Center and Fire Station No. 6.
Did You Know?

On April 4, 1968 Martin Luther King, Jr. was assassinated in the Lorraine Motel in Memphis, TN. Hundreds of thousands attended his funeral in Atlanta. President Johnson declared a day of national mourning. During the week following his death, riots erupted in over 100 cities.