Donate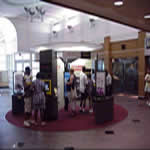 NPS Photo/Linda Byers
Martin Luther King, Jr. National Historic Site accepts donations. Through the generosity of public support we can further enhance park programs which include the changing exhibition program for the D.R.E.A.M Gallery, our community outreach programs, ranger guided programs, educational programs, and the maintenance of historically significant structures we operate and manage.
Donations may be made by check or money order, payable to "National Park Service" and mailed to:
National Park Service
Martin Luther King, Jr.
National Historic Site
Superintendent
450 Auburn Avenue, NE
Atlanta, Georgia 30312
Visitors can also contribute directly to the park by using the donation boxes located inside of the Visitor Center and Fire Station No. 6.
Did You Know?

December 12-16, 1961, Martin Luther King, Jr. and his forces launched an attack against segregation and discrimination in Albany, GA. Mass arrests and political maneuverings frustrated the effort. The Albany debacle taught civil rights leaders lessons for future massive assaults on segregation.