Delayed Opening

Due to inclement weather and hazardous driving conditions, the park and all its facilities will open at 10:00am today, February 14, 2014.
Contact Public Affairs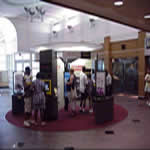 NPS Photo
Members of the media may contact the park's Public Affairs Office for information about press releases. The Acting Public Affairs Officer can be reach by calling (404) 331-5190 ext. 3011 or click here to e-mail your request.


Did You Know?

The King Center owns the Birth Home and the National Park Service maintains it. The King Family moved out of the Birth Home in 1941 and the house was then converted into a two-family dwelling. The Rev. A.D. Williams King, Dr. King's brother, lived on the second floor in the 1950's and early 1960's.