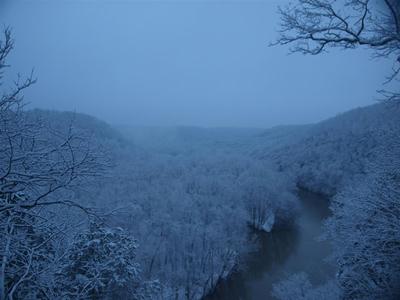 Photo from B. Carson files
Serenity. Solitude. Sensational. These are words that aptly describe wintertime at Mammoth Cave National Park. The trees have begun their long winter's nap. The deer have on their thick coats and the squirrels are bundled up with their autumn harvest. Without leaves, the unique features that helps sustain this cave country become clear. Rocky bluffs, steep ridges, deep valleys and flat ridge tops take center stage on the landscape. If you want to feel you have the park all to yourself come take a winter hike or enjoy a back country campsite free of charge. While the surface may be subject to winter's chill, the cave becomes a warm refuge from the frosted forest. Come and explore the calm and quietness in nature that cannot be found under any roof.
Our winter schedule runs November 1, 2015 - March 18, 2016. Please note that Mammoth Cave National Park, including the Visitor Center and cave tours, is closed Christmas Day, December 25. Safety and security personnel will continue to operate on December 25, but no visitor services will be available.
The Visitor Center hours are 8:30 a.m. - 4:30 p.m. Central Standard Time.
Reservations are not required, but are strongly recommended to ensure a spot on cave tours. Reservations cannot be made the same day of the tour. Adult ticket prices are for individuals 13 and up. Youth ticket prices are for visitors age 6 - 12. Unless otherwise noted, all visitors under the age of 16 must be accompanied by an adult age 18 or over.
Unless otherwise noted, flash photography is not permitted on cave tours.
Below you will find our full selection of tour times and descriptions offered this winter. Feel free to read each one, decide which is best for you and tailor-make your own opportunity to experience the wonders of Mammoth Cave National Park.
Cave Activity
Tour Times
Frozen Niagara Tour
9:00, 10:00, 2:30
Domes & Dripstones Tour
10:30, 11:30, 2:00
Cleaveland Avenue
1:15
Wild Cave Tour
9:00 (Sat./Sun.)
The visitor center will close at 1:45 p.m. Christmas Eve
All park operations are closed Christmas Day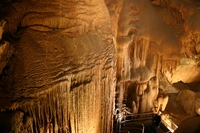 Frozen Niagara Tour
Often the perfect taste of Mammoth Cave for visitors with very small children, elderly family members, or others who cannot walk long distances. Not sure you like close spaces? Have trouble walking or managing long staircases? This short visit through this very heavily decorated part of Mammoth Cave might be best for you.

This section of cave is seen in its entirety on the Domes & Dripstones, Introduction to Caving, Grand Avenue and Wild Cave Tours.
Duration: 1 1/4 hours
Distance: 1/4 mile
Total Stairs: 12, plus an optional 98
Difficulty: Easy
Tour Capacity: 39
Price: $13 Adults, $9 Youth, $6.50 Special Access
Tour Times: 9:00, 10:00, 2:30
To view what part of Mammoth Cave this tour covers click here.
Want to make a reservation? Click here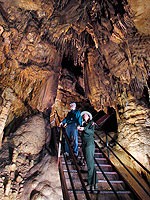 Domes & Dripstones Tour
This trip includes a dramatic series of domes and pits, typical large trunk passageways, and a short journey through a variety of dripstone formations. It's a great way to see the many faces of some of Mammoth Cave's passage ways.

This tour includes the entire Frozen Niagara Tour route.
Duration: 2 hours
Distance: 3/4 mile
Total Stairs: 500, including 280 on the initial staircase descent
Difficulty: Moderate
Tour Capacity: 118
Price: $15 Adults, $10 Youth, $7.50 Special Access
Tour Times: 10:30, 11:30, 2:00
To view what part of Mammoth Cave this tour route covers click here.
Want to make a reservation? Click here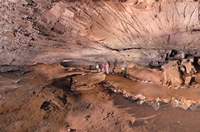 Cleaveland Avenue Tour
Descend nearly 200 stairs at the Carmichael Entrance, pass the craggy breakdown of the Rocky Mountains and enter gypsum-encrusted Cleaveland Avenue. This tour showcases gypsum in various crystalline shapes and sizes. The beautifully elliptical Cleaveland Avenue terminates in the Snowball Room, viewed by visitors since the 1840s. Visitors retrace Cleaveland Avenue, ascending nearly 200 stairs at the Carmichael Entrance. This entire route is seen on the Grand Avenue Tour. Restroom facilities and water fountains will be available in the Snowball Room. However, no food or beverages, other than water, are permitted or provided on the tour.
Duration: 2.5 hours
Distance: 2 miles round trip
Total Stairs: 230
Difficulty: Moderate
Tour Capacity: 38
Price: $16 Adults, $10 Youth, $8 Special Access
Tour Time: 1:15
To see what part of Mammoth Cave this tour route covers click here.
Want to make a reservation? Click here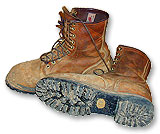 Wild Cave Tour
Face the darkness - and the challenge. Journey with experienced guides and a small adult group through some of the starkly beautiful yet physically demanding "wild" areas of the cave. Climb, crawl, squeeze, hike and canyon walk in the realms of Mammoth Cave. See places no other tour encounters and feel the thrill of exploration!
In order to minimize the spread of White Nose Syndrome, a fungus that has resulted in the death of over 5.5 million bats in the eastern United States, Mammoth Cave National Park has instituted stringent cleaning procedures for all off-trail spelunking tours this summer. All equipment and outerwear including gloves will be provided by the park. Visitors must provide their own boots. No personal caving equipment allowed. No Exceptions. Shorts and t-shirt recommended for wear under required coveralls.
An adult must accompany visitors under age 18. Organized youth groups must have at least two adult representatives accompanying minor children. Chest or hip measurement must not exceed 42 inches; if you are larger you may not physically pass through the crawlspaces. Sturdy, high top, over-the-ankle lace-up boots, with lug or deeply treaded soles are recommended. PLEASE READ: Sturdy, lace-up hiking boots that cover the ankle are required. Boots with zippers (where the zippers serve as part of the boot fit and support) will not be admitted on the tour. Boots must have good aggressive tread. No slick-soled footwear is permitted. No tennis shoes allowed. You will not be allowed to participate in the tour if you are not wearing proper footwear - no exceptions. Please bring an extra pair of tennis shoes or sandals for use during boot cleaning at the end of the tour. There will be no food service in the Snowball Room. Visitors will need to bring their own lunch or snacks. A small fannypack is provided. Requires at least 2 participants.
Age Limit: 16 and over
Duration: 6 hours
Distance: 5 miles
Difficulty: Extremely Strenuous
Tour Capacity: 14
Price: $55
Tour Times: 9:00 (Sat./Sun.)
Want to make a reservation? Click here