Weather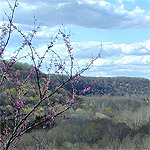 Kentucky has a moderate climate, characterized by warm, yet moist conditions. Summers are usually warm, and winters cool. Kentucky's weather patterns are influenced by the Gulf of Mexico, especially during summer. Much of Kentucky's average 46 inches of precipitation a year falls in spring, the rainiest season. From south to north, precipitation decreases. Southern Kentucky receives the highest average precipitation for the state, about 50 inches a year. Kentucky is located in a path several storm systems follow. Storms happen year-round; most storms, however, occur between March and September.
For current climate data, check out our webcam and air monitoring link to the right. >>


Green River Valley Webcam

Real-time view of Mammoth Cave's Green River Valley, and atmospheric data. Read More
Did You Know?

Stalactites grow downward – they hang "tight" to the ceiling – while stalagmites grow upward – they "might" reach the ceiling someday. Mammoth Cave's formations include many types of calcite formations.