Trog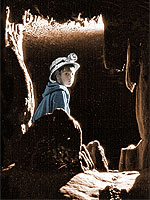 Robert Cetera
Duration: 2½ hours
Caving Distance: 1 ½ miles
Sells Out at: 12 children, ages 8-12
Restroom Available? No
Description: This tour offers an off-trail adventure for children ages 8–12. Begin with a short hike through the forest down to the Historic Entrance of Mammoth Cave and see how the surface and subsurface are connected. Put on your hard hat and headlamp as you travel off-trail and learn how early visitors ventured through the cave as well as how cavers safely explore today. Unlock the secrets of how the animals of Mammoth Cave survive in this dark underground world. Children will get a first hand experience of "discovering" a new world as they hike, crawl and belly slide through rarely visited sections of Mammoth Cave.
Landmarks Seen: Natural Entrance, Rotunda, Broadway Avenue, Methodist Church, Giant's Coffin, Wooden Bowl Room, Ganter Avenue
Elevation Changes: 170 feet
Physical Challenges: Hiking up and down the trail to cave entrance; some tight crawling through dust and over rocks
Restrictions: • Children must be at least 8 years old and no older than 12 years old • Sturdy athletic shoes or hiking boots required • Helmets, kneepads, coveralls and lights provided • Parents must stay with child for first thirty minutes of program to assist with changing into coveralls and fitting equipment; parents must at return location ten minutes prior to end of tour • Trog Tour is not recommended for children with asthma or severe allergies to dust and molds • Requires a minimum of 2 participants • No bags permitted • Trog Tour is best enjoyed with a friend or sibling.
NOTICE: In order to minimize the spread of White Nose Syndrome, a fungus that has resulted in the death of over one million bats in the eastern United States, Mammoth Cave National Park has instituted stringent disinfection proecedures for all off-trail crawling tours. As a result all equipment and outerwear except boots will be provided by the Park. No personal caving equipment allowed. No Exceptions. Shorts and t-shirt recommended for wear under required issued coveralls. Visitors can change into these clothes in the provided change room. It is recommended you bring an extra pair of shoes for use during footwear decontamination at the end of the tour.


Did You Know?

For many years, the chambers of Mammoth Cave rang with the sound of music. Visiting bands such as Landram's Sax-Horn Band and Luther Ewing's String Band, along with the Mammoth Cave Hotel's own local musicians, entertained visitors underground into the early 20th century.