Showers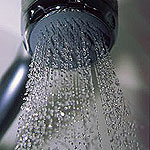 Mammoth Cave Hotel offers guests and Park visitors a service center and convenience store located on Mammoth Cave Parkway, near the National Park Service campground. The Caver's Camp Store features supplies, groceries, picnic foods, showers and a self-service laundry facility with an adjacent full-service U.S. Post Office.
The showers are coin-operated and provide 10 minutes of shower time for $2. No amenities are provided; soaps and shampoos may be purchased at the Caver's Camp Store.


Did You Know?

For many years, the chambers of Mammoth Cave rang with the sound of music. Visiting bands such as Landram's Sax-Horn Band and Luther Ewing's String Band, along with the Mammoth Cave Hotel's own local musicians, entertained visitors underground into the early 20th century.