Reservations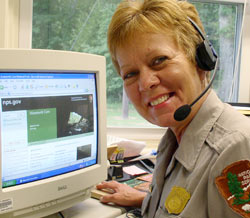 You may make reservations for most cave tours and campsites through the National Recreation Reservation Service.
Reservations are not required, but are recommended. Currently, reservations cannot be made the same day of a tour.
Educational prices apply to Kindergarten-College groups. Please call the park at 270.758.2180 to schedule your educational group.
---
For reservations:
By Phone
: (877)444-6777
TDD (hearing impaired)
: (877)833-6777
Online:
www.recreation.gov
Call Center Hours: 9:00 am - 9:00 pm Central Time
Payment: Visa, MasterCard, Discover Card, and American Express are accepted.
Cancellation: All changes of tour reservation will be considered a cancellation and charged $3.00 per ticket. Cancellations made fewer than 24 hours in advance of the tour will not receive a refund.
For Wild Cave Tour, Introduction to Caving, and Trog: Cancellations made 10 or more days prior to the Tour Date will be charged the standard $3.00 / ticket for these tours. Cancellation made 10 days or less prior to the Tour Date will be charged the following amount per ticket:

Wild Cave Tour - $12.00
Introduction to Caving Tour - $6.00
Trog Tour - $4.00


Did You Know?

Native Americans of the Early Woodland period gathered minerals from Mammoth Cave between 2,000 and 4,000 years ago ... no one knows why. Objects they left behind – slippers, cane torches, gourds, and mussel shells – remain perfectly preserved in the cave.