You Can't Take It With You
The Following Items are not permitted on Cave Tours:
• Tripods
• Strollers
• All backpacks, including child backpack carriers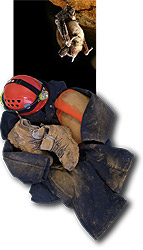 ---
Please Take Note

White-Nose Syndrome (WNS), a disease in bats that is killing these vital animals by the millions, is a potential threat to Mammoth Cave and the bats that live here. The Park's efforts to prevent WNS here may affect what you can wear or bring with you into the cave. Clothing, footwear and handheld items that have previously been worn in caves or mines in certain areas may not be brought into Mammoth Cave.
To learn if these limitations might include items you wear or carry, click here to visit the White-Nose Syndrome page.
---
The following items are not permitted on cave tours or in the visitor center. • Any other type of weapon (clubs, batons, brass knuckles, etc.)

• Pepper Spray/Mace

• Sharp Intstruments (box cutters, scissors, etc.)

• Knives

• Firearms
Secure these items in your vehicle, or in one of the lockers provided at the bus loading area.


Be Safe at Mammoth Cave

Safety is your responsibility – click here to learn how to stay safe at Mammoth Cave. Read More
Did You Know?

In 1841, cave owner Dr. John Croghan believed the cave air might cure his patients suffering from tuberculosis. He brought 16 patients into Mammoth Cave that winter and housed them in stone and wood huts. After some perished, they left the cave, for of course the cave air offered no cure.