Alert - Mammoth Cave is in an area highly endemic to histoplasmosis

Histoplasmosis is a serious infection caused by breathing in spores of a fungus often found in bird and bat droppings. Infants and immunocompromised persons are especially vulnerable. Click the link for more information. More »
Laundry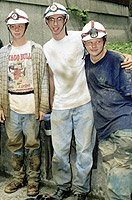 Mammoth Cave Hotel offers guests and Park visitors a service center and convenience store located on Mammoth Cave Parkway, near the National Park Service campground. The Caver's Camp Store features supplies, groceries, picnic foods, showers and a self-service laundry facility with an adjacent full-service U.S. Post Office.
The laundry facility has 2 coin-operated washers and 2 coin-operated dryers.


Did You Know?

Mammoth Cave is one of the oldest tourist attractions in North America. Tours of Mammoth Cave have been offered since 1816.