Laundry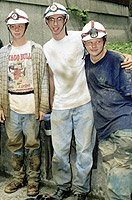 Mammoth Cave Hotel offers guests and Park visitors a service center and convenience store located on Mammoth Cave Parkway, near the National Park Service campground. The Caver's Camp Store features supplies, groceries, picnic foods, showers and a self-service laundry facility with an adjacent full-service U.S. Post Office.
The laundry facility has 2 coin-operated washers and 2 coin-operated dryers.


Did You Know?

Native Americans of the Early Woodland period gathered minerals from Mammoth Cave between 2,000 and 4,000 years ago ... no one knows why. Objects they left behind – slippers, cane torches, gourds, and mussel shells – remain perfectly preserved in the cave.