Laundry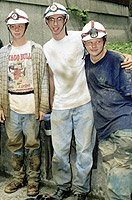 Mammoth Cave Hotel offers guests and Park visitors a service center and convenience store located on Mammoth Cave Parkway, near the National Park Service campground. The Caver's Camp Store features supplies, groceries, picnic foods, showers and a self-service laundry facility with an adjacent full-service U.S. Post Office.
The laundry facility has 2 coin-operated washers and 2 coin-operated dryers.


Did You Know?

Mammoth Cave National Park contains more than 70 miles of backcountry trails through forested Kentucky hills for hikers, horseback riders, and bicyclists. Several frontcountry trails lead to special places like Cedar Sink, Sand Cave, and Turnhole Bend.