Laundry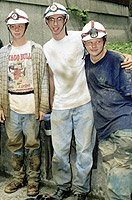 Mammoth Cave Hotel offers guests and Park visitors a service center and convenience store located on Mammoth Cave Parkway, near the National Park Service campground. The Caver's Camp Store features supplies, groceries, picnic foods, showers and a self-service laundry facility with an adjacent full-service U.S. Post Office.
The laundry facility has 2 coin-operated washers and 2 coin-operated dryers.


Did You Know?

In 1841, cave owner Dr. John Croghan believed the cave air might cure his patients suffering from tuberculosis. He brought 16 patients into Mammoth Cave that winter and housed them in stone and wood huts. After some perished, they left the cave, for of course the cave air offered no cure.