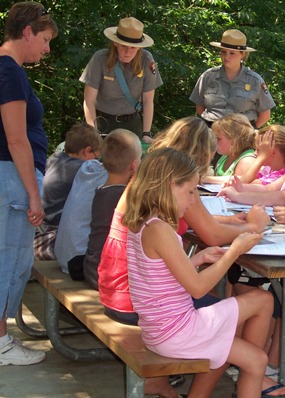 Saturday, April 27, 2013 is Junior Ranger Day. Mammoth Cave National Park is hosting a day of special activities to celebrate youth and the Junior Ranger Program. The Junior Ranger motto is "Explore, Learn and Protect!" Special National Junior Ranger Day patches and certificates will be available for participants ages 6-12.
All times are Central Daylight Time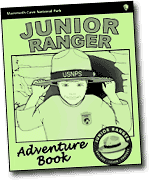 Available at the Visitor Center
On Your Own
The park's Junior Ranger Adventure Book is available free of charge for children ages 6 - 12. After completing the necessary requirements, a certificate and badge will be awarded.
Also...investigate wildflowers growing along the ridges and enjoy the beautiful colors of spring. Take your children on a nature scavenger hunt to look for signs of wildlife in the forest. Stalk the forest floor in search of morel mushrooms. Free wildflower checklists, scavenger hunts for kids, and tips for morel hunting are available at the visitor center information desk.
---
Where Are We? / Basic Orienteering
Park Ranger Joel Gillespie
9:30 - 10:15 a.m.
Meets at: Visitor Center
How did we ever find our way before GPS? Find out how to navigate with compass and map. Compasses will be provided for hands-on activities.
---
Visitor Center Display

10:00 a.m. - 1:00 p.m.


Science on Display - Explore a variety of topics related to mammoth Cave National park. Among the subjects are the underground water flow routes of the River Styx and Wood Frog research!
---
Safety on the Water
Park Ranger David Spence
10:45 - 11:30 a.m.
Meets at: Visitor Center
Do you know what to do in preparing to be safe when on the water? Join in this program to see how to get ready and be prepared for a safe and enjoyable outing in the wonderful world of water recreation.
---
Knots to Know
Park Ranger Joel Gillespie
1:00 - 1:45 p.m.
Meets at: Visitor Center
Knots can be confusing and down-right frustrating. If you're not otherwise tied up, join us to learn how to untangle the mysteries and master some of the most useful knots.
---
Put Your Ranger Hat On

Park Ranger Darlene Owens
1:00 - 2:30 p.m.
Meets at: Visitor Center


Park Rangers are known for their hats. Did you know that being a park ranger requires them to wear many different "hats" to perform a wide variety of jobs that help make Mammoth Cave a fun and safe place to visit? Join our rangers, explore a vehicle patrol car and fire engine. Feel free to come and see what a day in the life of a Park Ranger is really like.
---
Campfire Basics and Tricks
Park Rangers Dave Spence & Darlene Owens
3:00 - 3:45 p.m.
Meets at: Amphitheater
Fire is one of our best tools for comfort and surival. Learn how to safely and effectively plan and start campfires, even under difficult conditions. Adults need to stay with their children during this activity.
---
Campfire Stories for All Ages
Park Ranger Rick Sanders
7:30 - 8:15 p.m.
Meets at: Park Amphitheater
Round out a day of activities with a relaxing fireside experience with our professional storyteller. Hear some memorable tales in this family friendly activity. It's sure to be a great time in a true, classic national park setting!