Ferries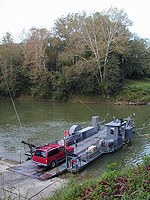 Green River bisects Mammoth Cave National Park, and can be crossed within the park via Green River Ferry or Houchin Ferry - two of the few operating rural ferries in America.
Green River Ferry operates year-round with the exception of Christmas Day (December 25), 6:00am-9:55pm.
Houchin Ferry is currently out of service. Houchin Ferry Road in the park, along with First Creek and Temple Hill Trailheads, can be accessed via highway 259 to 728 and Ollie Road north of the park.
Ferry operations are subject to water levels on the Green River, and operations may be affected by high or low water. You may call the Ferry Hotline at (270)758-2166 for current information. In the event of ferry closure, the nearest crossing is in Brownsville.
Vehicles boarding the ferries must not exceed 8 tons, and have a length no more than 16 feet. Low water conditions often restrict trailer traffic on the ferries; you may wish to call the Ferry Hotline prior to departing with your trailer-length vehicle to ensure that the ferries can accommodate your vehicle.



Did You Know?
Mammoth Cave is the world's longest known cave, with more than 400 miles of interconnected passages—so long that if the second and third longest caves in the world were joined together, Mammoth Cave would still be the planet's longest cave and have more than 100 miles left over!