Emergencies & First Aid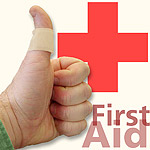 First Aid for emergencies is available at the park Visitor Center. In cases of serious emergency, dial 911.
For non-emergency assistance, dial (270)758-2115.


Did You Know?
Mammoth Cave is the world's longest known cave, with more than 400 miles of interconnected passages—so long that if the second and third longest caves in the world were joined together, Mammoth Cave would still be the planet's longest cave and have more than 100 miles left over!