Emergencies & First Aid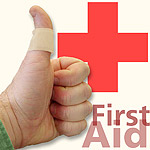 First Aid for emergencies is available at the park Visitor Center. In cases of serious emergency, dial 911.
For non-emergency assistance, dial (270)758-2115.


Did You Know?

Stalactites grow downward – they hang "tight" to the ceiling – while stalagmites grow upward – they "might" reach the ceiling someday. Mammoth Cave's formations include many types of calcite formations.