Alert - Mammoth Cave is in an area highly endemic to histoplasmosis

Histoplasmosis is a serious infection caused by breathing in spores of a fungus often found in bird and bat droppings. Infants and immunocompromised persons are especially vulnerable. Click the link for more information. More »
Emergencies & First Aid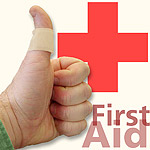 First Aid for emergencies is available at the park Visitor Center. In cases of serious emergency, dial 911.
For non-emergency assistance, dial (270)758-2115.


Did You Know?

The grease-oil lamp was used to illuminate Mammoth Cave for more than a century. Designed after New England whale-oil lanterns, these lamps used cooking grease to light the way.