Emergencies & First Aid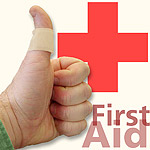 First Aid for emergencies is available at the park Visitor Center. In cases of serious emergency, dial 911.
For non-emergency assistance, dial (270)758-2115.


Did You Know?

Creatures that spend their entire lives in Mammoth Cave adapt to the dark world. Some types of cave fish, for example, do not grow eyes – supporting these extra unnecessary organs would consume precious energy in their nutrient-poor environment.