Emergencies & First Aid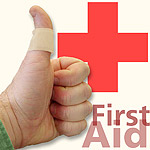 First Aid for emergencies is available at the park Visitor Center. In cases of serious emergency, dial 911.
For non-emergency assistance, dial (270)758-2115.


Did You Know?

Mammoth Cave National Park contains more than 70 miles of backcountry trails through forested Kentucky hills for hikers, horseback riders, and bicyclists. Several frontcountry trails lead to special places like Cedar Sink, Sand Cave, and Turnhole Bend.