Cave Sing at Mammoth Cave NP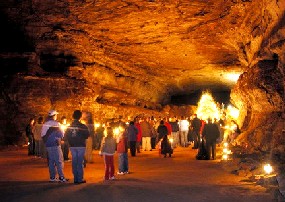 In 1883, residents planned a Christmas celebration in Mammoth Cave. The big local event consisted of carols, laughter and even an adorned Christmas tree. The ten-foot cedar was hauled into the cave and stood in a room known as the "Methodist Church". It was soon draped with ribbons and popcorn under the glowing light of lard-oil lanterns. An early article about the event stated, "the halls of the cave ring with joyous carols and the laughter of happy children."
In 1980, Mammoth Cave National Park rekindled this celebration. However, instead of just a local event, all are welcome to attend. Today, this historic enactment gives the opportunity for visitors to experience the incomparable acoustics and grandeur of the cave's great halls. The event is scheduled for the first Sunday in December each year and is completely free of charge for those who attend.
33rd Annual Cave Sing List of Activities
December 2, 2012
(All times Central)
1:15 - Storytelling begins at the Mammoth Cave Hotel Rotunda Room
2:00 - Depart to cave from Visitor Center. Enjoy the swirling melodies in the cave from performances of local talent.
---
INSIDE THE CAVE
---
At the Rotunda

• Glasgow Brass Quintet
---
At the Methodist Church

• The return of the Caveman Chorus! Enjoy the a cappella tones of an old fashioned barbershop group. It's sure to bring a smile for your holiday season!
---
AFTER THE SING
3:30 - Mammoth Cave Hotel
Santa Claus arrives and complimentary refreshments are served
Did You Know?

For many years, the chambers of Mammoth Cave rang with the sound of music. Visiting bands such as Landram's Sax-Horn Band and Luther Ewing's String Band, along with the Mammoth Cave Hotel's own local musicians, entertained visitors underground into the early 20th century.