Canoe and Kayak Outfitters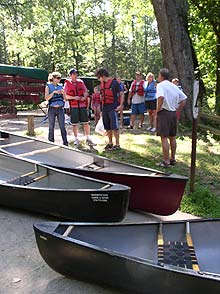 Canoes and Kayaks are available through liveries outside the park. Contact:
Big Buffalo Crossing Canoe
(866)233-2690
Cave Country Canoe
(270) 773-5552

Green River Canoeing, Inc.
(270)773-5712
Mammoth Cave Canoe and Kayak
(877)59-CANOE
(270)773-3366
Launching watercraft is strongly discouraged when river levels are at or exceed 10 feet on the park's water level gauges. Strong, swiftly moving currents as well as large drift flowing in the river channel pose a hazard to safety. Canoe liveries with permits to operate in the park are prohibited from renting or providing canoes during these times. To inquire on current river levels please call 270.758.2417. For more canoeing and kayaking details contact the above liveries for more information.
Did You Know?

Mammoth Cave National Park contains more than 70 miles of backcountry trails through forested Kentucky hills for hikers, horseback riders, and bicyclists. Several frontcountry trails lead to special places like Cedar Sink, Sand Cave, and Turnhole Bend.