Camp Store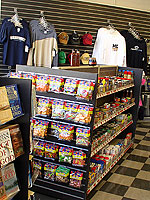 Mammoth Cave Hotel offers guests and Park visitors a service center and convenience store located on Mammoth Cave Parkway, near the National Park Service campground.
The Caver's Camp Store
features supplies, groceries, picnic foods, showers and a self-service laundry facility with an adjacent full-service U.S. Post Office.


Did You Know?

The Green and Nolin Rivers course more than 30 miles through Mammoth Cave National Park, offering hours of boating, canoeing, fishing, and floodplain camping.