Camp Store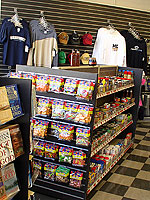 Mammoth Cave Hotel offers guests and Park visitors a service center and convenience store located on Mammoth Cave Parkway, near the National Park Service campground.
The Caver's Camp Store
features supplies, groceries, picnic foods, showers and a self-service laundry facility with an adjacent full-service U.S. Post Office.


Did You Know?

Stalactites grow downward – they hang "tight" to the ceiling – while stalagmites grow upward – they "might" reach the ceiling someday. Mammoth Cave's formations include many types of calcite formations.