Books and Gifts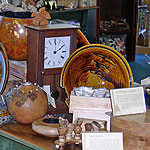 Books and Gifts can be purchased in the park from the Eastern National sales area in the park Visitor Center, or from the hotel. The Mammoth Cave Hotel, winner of the prestigious 2003 Kentucky Crafted Retailer of the Year Award, is proud to support Kentucky artisans and craftspeople and promote craft entrepreneurs and traditions.


• Eastern National Bookstore - in the Park Visitor Center
• Kentucky Home Gift Shop - beautiful gifts and works of art
• The Cave Company - souvenirs, cave memorabilia, t-shirts, postcards, books & snacks


Did You Know?
Mammoth Cave is the world's longest known cave, with more than 400 miles of interconnected passages—so long that if the second and third longest caves in the world were joined together, Mammoth Cave would still be the planet's longest cave and have more than 100 miles left over!