Alert - Mammoth Cave is in an area highly endemic to histoplasmosis

Histoplasmosis is a serious infection caused by breathing in spores of a fungus often found in bird and bat droppings. Infants and immunocompromised persons are especially vulnerable. Click the link for more information. More »
Books and Gifts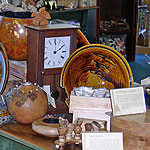 Books and Gifts can be purchased in the park from the Eastern National sales area in the park Visitor Center, or from the hotel. The Mammoth Cave Hotel, winner of the prestigious 2003 Kentucky Crafted Retailer of the Year Award, is proud to support Kentucky artisans and craftspeople and promote craft entrepreneurs and traditions.


• Eastern National Bookstore - in the Park Visitor Center
• Kentucky Home Gift Shop - beautiful gifts and works of art
• The Cave Company - souvenirs, cave memorabilia, t-shirts, postcards, books & snacks


Did You Know?

The Green and Nolin Rivers course more than 30 miles through Mammoth Cave National Park, offering hours of boating, canoeing, fishing, and floodplain camping.