Books and Gifts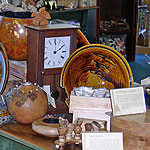 Books and Gifts can be purchased in the park from the Eastern National sales area in the park Visitor Center, or from the hotel. The Mammoth Cave Hotel, winner of the prestigious 2003 Kentucky Crafted Retailer of the Year Award, is proud to support Kentucky artisans and craftspeople and promote craft entrepreneurs and traditions.


• Eastern National Bookstore - in the Park Visitor Center
• Kentucky Home Gift Shop - beautiful gifts and works of art
• The Cave Company - souvenirs, cave memorabilia, t-shirts, postcards, books & snacks


Did You Know?

In 1841, cave owner Dr. John Croghan believed the cave air might cure his patients suffering from tuberculosis. He brought 16 patients into Mammoth Cave that winter and housed them in stone and wood huts. After some perished, they left the cave, for of course the cave air offered no cure.