Bike Trails in Mammoth Cave National Park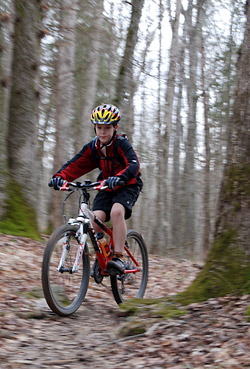 ©2008 Steve Capps. Used by permission.
Mammoth Cave National Park offers several opportunities for bicyclists to get out into the outdoors. Street bicycles are permitted on all paved Park roads that are open to the public, and mountain bikes are permitted on the unpaved administrative roads. In addition, certain trails have been specifically designed or designated for off-road bicycle use, and more are under development.
The following special rules apply to bicycle users on Park trails:
Bicycles are prohibited on routes and trails not designated as open to bicycle use.
Unless posted otherwise, bicycles may not be operated in excess of 15 miles per hour on designated routes.
Bicyclists must yield the right of way to horses and hikers on all shared trails.
---
Designated Off-Road Bicycle Trails in the Park
Big Hollow Trail - 9.1 miles
The Mammoth Cave Railroad Bike and Hike Trail - 9 miles
Maple Springs Trail - 1 mile
White Oak Trail - 2.5 miles
---
Did You Know?
Mammoth Cave is the world's longest known cave, with more than 400 miles of interconnected passages—so long that if the second and third longest caves in the world were joined together, Mammoth Cave would still be the planet's longest cave and have more than 100 miles left over!