National Public Lands Day Volunteer Event - September 26, 2009
National Public Lands Day
is the nation's largest hands-on volunteer effort to improve America's public lands. This year, Mammoth Cave National Park, along with the entire National Park Service, is participating in this volunteer effort in conjunction with the release of the new Ken Burns documentary,
The National Parks: America's Best Idea
, premiering on Public Broadcasting System stations throughout the country on Sunday, September 27, 2009. Together, these two events will reconnect the nation to the rich heritage and beauty represented by America's national parks.
---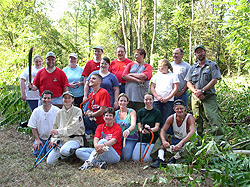 This year, on September 26, Mammoth Cave's National Public Lands Day event is also a part of the
National Parks America Tour
sponsored by Unilever Corporation. The National Parks America Tour is a volunteer-driven initiative designed to engage employees, community groups, school children, scouts and citizens of all ages in volunteer service-to-the-land activities in America's National Parks. With more than 25 events each year, National Parks America Tour volunteers assist by providing the essential manpower necessary to complete priority park improvement projects. Since 1999, the National Parks America Tour has donated more than 250,000 volunteer hours to the National Park Service, resulting in an in-kind manpower donation of $4.25 million.
Mammoth Cave National Park's National Public Lands Day volunteer effort will focus on the eradication of invasive plant species from the park, and will build on a month-long series of similar efforts by diverse teams of NPS employees and volunteers:
---

September 8-14—The seven member

NPS Southeast Exotic Plant Management Team

, Asheville, N.C., will work in the park in two areas – in the barrens restoration project near Park City, the team will remove tree of heaven, crown vetch, Johnson grass, and lespedeza along the bike/hike trail and roadsides; they will also remove kudzu at the old Job Corps site on Flint Ridge.

September 9

—More than two dozen

Great Onyx Job Corps

urban forestry students will work in the Maple Springs area to eradicate

Lespedeza cuneata

, commonly called sericea lespedeza.

September 10

—members of the

Glasgow Garden Club

will visit the park for a field study on identifying exotic plants and how control them.
September 10—

Greenwood High School's environmental science class

of 30 students will come to the park for a workshop on identifying, photographing, and controlling exotic plants. Their teacher, Rachael Jones, studied and worked at Mammoth Cave this summer in the park's geo-science teacher program, where teachers gain first-hand science experience as they assist with research projects. Ms. Jones' students will created and publish a book on the major exotic species in the park.

September 10

—representatives from

The Nature Conservancy

will visit the park to begin a five-year project focused on controlling exotic species in the park barrens areas.
September 12—

Western Kentucky University biology interns

will remove spotted knapweed from an area in the park known as Wondering Woods.

September 12

—at the

Bounty of the Barrens farmer's market

in Glasgow, Brice Leech, Mammoth Cave resource management specialist, will work a booth with the Glasgow Garden Club to educate the public about invasive, exotic plants.
September 12-13—

Target Store volunteers

will make their annual trip to the park. This year the group will focus on removal of sericea lespedeza along some of the park roadsides.


---




"We have assembled an army of National Park Service staff and volunteers to attack these insidious plants," said park Superintendent Patrick Reed. "Tree of heaven, kudzu, lespedeza, princess tree—we fight these species constantly. In recognition of National Public Lands Day and Invasive Plant Awareness month and National Public Lands Day, we are declaring war."
Kentucky Governor Steven L. Beshear's proclamation declaring September as Invasive Plant Awareness month states in part:
"…Kentucky has regularly dealt with the presence of unwanted invasive plants that are not native to the state and that through their aggressive nature pose a genuine danger to the well-being of the natural areas, wildlands, farm lands, parks and recreation areas, managed forests, and home landscapes of the Commonwealth…"

"Invasive species" are those that have been brought to the United States from other countries for varied reasons such as livestock feed, erosion control, and landscaping. These invaders may adapt well to local soils and climate, especially in the absence of the foreign animals who would otherwise eat them. They may become more prolific here than in their homeland, driving out native plants and depriving native animals of food and shelter—and they can be extremely hard to get rid of.
---
For more information
about the National Public Lands Day Volunteer Event, contact
Brice Leech
, Natural Resource Specialist, at
270-758-2142
.