Walk for Wellness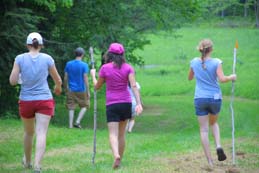 Walk for Wellness!
Adding a little physical activity to our day offers health benefits. It helps with weight control, builds stronger bones and muscles, and can even boost your mood and help you sleep better. And, it's fun! The park carriage roads and trails are well suited for recreational walking, health and reflection. Join park staff every Wednesday at 5 pm in June and July for a one-hour walk.

♥ For your heart, for your happiness!
Did You Know?

45 miles of carriage roads, an early 20th century gift of John D. Rockefeller Jr., weave around the granite mountains and valleys of Acadia NP. 14 miles of carriage roads, built in the 1880s by Frederick Billings, traverse the gentle slopes and historic woodlands of Marsh-Billings-Rockefeller NHP.