Starting Wednesday July 23rd Expect Road Closures

July 23rd, Prosper Trail, North Slope & Middle Pass Trails - west side of the park CLOSED for forestry operations. McKenzie Farm Trail & McKenzie Rd will remain open for access between Prosper Parking Lot and the Pogue. CAUTION Heavy Equipment in use!
Walk for Wellness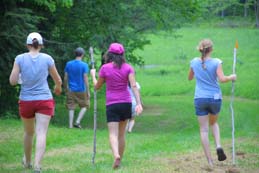 Walk for Wellness!
Adding a little physical activity to our day offers health benefits. It helps with weight control, builds stronger bones and muscles, and can even boost your mood and help you sleep better. And, it's fun! The park carriage roads and trails are well suited for recreational walking, health and reflection. Join park staff every Wednesday at 5 pm in June and July for a one-hour walk.

♥ For your heart, for your happiness!
Did You Know?

As a teenager, Laurance S. Rockefeller toured Yellowstone, Grand Canyon, and Mesa Verde with Horace Albright. Later in life, Laurance would donate lands to create Virgin Islands NP and Marsh-Billings-Rockefeller NHP. He was the first conservationist to receive the Congressional Gold Medal.