Walk for Wellness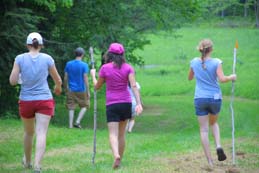 Walk for Wellness!
Adding a little physical activity to our day offers health benefits. It helps with weight control, builds stronger bones and muscles, and can even boost your mood and help you sleep better. And, it's fun! The park carriage roads and trails are well suited for recreational walking, health and reflection. Join park staff every Wednesday at 5 pm in June and July for a one-hour walk.

♥ For your heart, for your happiness!
Did You Know?

Marsh-Billings-Rockefeller NHP and Home of Franklin D. Roosevelt NHS have in common a passion for trees! Marsh-Billings-Rockefeller has the oldest sustainably managed woodland in North America. FDR, an amateur forester, personally supervised the planting of hundreds of trees on his Hyde Park estate.