Trek to Taste information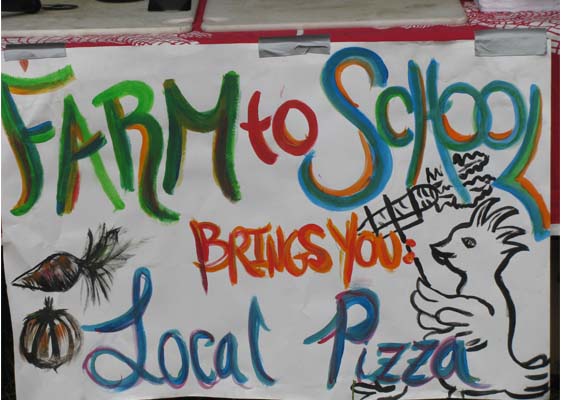 Let the scent of freshly baked pizza dripping with mozzarella and fresh greens guide you up the trails of Mount Tom on June 7. As part of the sixth annual Trek to Taste Event, the Woodstock Union Middle/HighSchool Farm to School club will be dishing up wood-fired pizza at the NordicHut in Marsh-Billings-Rockefeller National Historical Park. The NOFA pizza oven and baker will be cranking out pizzas made with King Arthur Flour. The pizza will be topped with local tomato sauce, Cabot mozzarella, and fresh student-grown arugula and spinach from the school's own brand-new greenhouse!
This year, students are exploring the cultivation of hardy greens at our school to be used on our cafeteria and for school events. We've been sowing spinach, arugula, mesclun, and a variety of lettuces in the greenhouse, in cold frames, and directly in the ground. Moisture, air flow, fertilizers, and harvest methods are all variables we've been experimenting with. A field trip to Cedar Circle Farm in Thetford provided great technical insight to our systems evaluations.
There will also be information displays galore celebrating our local food system! Cold iced-tea and apples from Champlain Orchards and Cabot cheddar cheese will also complement the tasting experience. Throw the Frisbee and participate in other family friendly games while relaxing in the meadow. Find more information about Trek to Taste at www.TrektoTaste.info
Loading the player...


Trek to Taste June 7, 2014

A celebration of trails, local food, and healthy living. Join us for guided walks starting at 10:30 and noon or grab a map and venture out on your own — choose from four different hike options and along the way sample delicious, heart-healthy foods from local producers. Family games, crafts, demonstrations, ice cream social, music and more. For more information visit: www.trektotaste.info

Duration:

29 seconds

Credit / Author:

Michael Sacco

Date created:

2014-04-28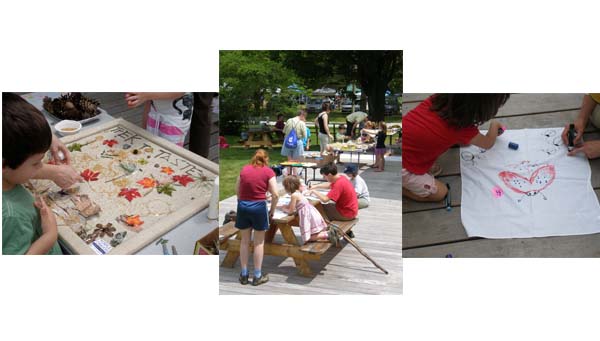 The Trek Takes Great Strides
Peter Allison, Upper Valley Farm to School Network
peter@uvfts.org
The 6th Annual Trek to Taste—a celebration of local food and local trails—is scheduled for Saturday, June 7, 2014 from 10 am to 3 pm at the Marsh-Billings-Rockefeller National Historical Park in Woodstock, Vermont. This free event is co-sponsored by over 30 area organizations and is quickly becoming one of the most popular events in the Upper Valley.
This year's Trek will feature some familiar elements and introduce a (picnic) basket of new ones as well. Guided hikes will begin at the Forest Center at 10:30 AM. Walkers of all ages are invited to join knowledgeable area guides for treks to ArtisTree and the Mount Tom Farmers Market (quarter mile), the Nordic Hut (1 mile) and Mount Tom's South Peak Summit (2 miles).
There are five "hubs" of activities spread around the National Park and Billing Park's amazing trail system. Under the big tent at the Forest Center visitors will find the Upper Valley Farm to School Network showcase. Over a dozen area school teams will exhibit exciting projects related to local food and farms - and provide food samples - related to:using fruits, vegetables and grains in art projects, growing and milling grains in Vermont, school food waste composting, planning and building greenhouses, and visits to sheep farms and maple syrup operations.The student presenters have well prepared displays and are ready to tell you all about them. See: www.uvfts.org for more info.
ArtisTree, located across from the Mount Tom Farmers Market is the terminus of the shortest hike, and features kid-friendly activities including decorating bandanas. The Mount Tom Farmers market along Route 12 is staying open until 1:00 PM with great local food offerings for sale to bring on the trails.
The Woodstock High School and Middle School Farm to School program is preparing wood fired pizza at the Nordic Hut, using many locally sourced delicious ingredients cooked in Northeast Organic Farming AssociationVT's mobile oven.
Sustainable Woodstock is gathering gourmet food from area farms and establishments, providing well deserved tastes by hikers who make it to the Summit of Mount Tom. The Woodstock Historical Society will have an historic photo display with vistas from the summit taken over the last century.
Many activities, such as making walking sticks and local Valley Quests will be organized for trekkers young and old. New this year, Green Mountain Digital will be on site with their Yonder App, to allow participants to capture and share their photos commemorating their best Trek to Taste memories.
The day will wrap up with music by Carter Glass starting at 1 PM, and an ice cream social sponsored by the Billings Park Commission with homemade ice cream from the Woodstock Creamery.
Trek to Present Two Awards
Last year, the first Annette C. Compton Fiertz Trail Stewardship Award was presented at the 2013 Trek to long-time trail steward Peter Davenport. The award was created in honor of the dedicated work of Annette Compton Fiertz (1959-2012) and her efforts in trail stewardship and community engagement for the Woodstock Trails Partnership. The first annual Upper Valley Farm to School Champion Award will also be presented at the event. The award will be given to an individual, school or organization that has demonstrated inspiration,creativity and effectiveness in connecting local food and farms with their school cafeteria, classroom and community in the Upper Valley.
For information on how to submit a nomination for either award, and for more event information, go to trektotaste.info.
Look for upcoming articles on the Trek to Taste in The Vermont Standard.