trek to taste information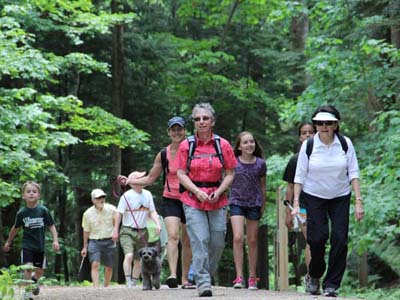 NPS Photo
Trek to Taste - Flavors, Fun, and Fitness on the Trails of Woodstock


The 7th Annual Trek to Taste - a celebration of local food and local trails - is scheduled for Saturday, June 6, 2015 from 10 a.m. to 3 p.m. at the Marsh-Billings-Rockefeller National Historical Park.

Download Schedule/Map.

This free event celebrating National Trails Day is co-sponsored by over 30 area organizations and is one of the most popular events in the Upper Valley.

This year's Trek will feature some familiar elements and introduce some new ones. Guided hikes will begin at the Forest Center at 10:30 AM. Walkers of all ages are invited to join knowledgeable area guides for treks to the park's horse shed meadow (.4 mile), the Nordic Hut (1 mile) and Mount Tom's South Peak Summit (2 miles).
Five "hubs" of activities will be spread around the National Park and Billing Park's trail system. Under the big tent at the Forest Center visitors will find the Upper Valley Farm to School Network showcase. Over a dozen area school teams will exhibit exciting projects related to local food and farms - and provide tasty food samples. Display will also include the Ottauquechee Regional Planning Commissions' popular interactive stream table.


ArtisTree is joining the Vermont Institute of Natural Science (VINS) at the terminus of the shortest hike which will lead to the park's horse shed meadow. This location will feature kid-friendly activities including special trail snacks, a raptor, and decorating bandanas.


The Woodstock High School and Middle School Farm to School program is preparing wood fired pizza at the Nordic Hut, using many locally sourced delicious ingredients cooked in a mobile oven.


Sustainable Woodstock is gathering gourmet food from area farms and establishments, providing well deserved tastes by hikers who make it to the Summit of Mount Tom. The Woodstock Historical Society will be at the vista with a historic photo display with views from the summit taken over the last century, and a refreshing traditional "switchel" for you to try.


Many activities, such as making walking sticks and a local Valley Quest will be organized for trekkers young and old. Green Mountain Digital will be at a hub at the Pogue with their Yonder App, to allow participants to capture and share their photos commemorating their best Trek to Taste memories. The Upper Valley Trails Alliance and the Ottauquechee chapter of the Green Mountain Club will provide trails activities, hike leaders, and information.


The day will include music organized by Pentangle Arts starting at 1 p.m., and an ice cream social sponsored by the Billings Park Commission with homemade ice cream from the Woodstock Creamery.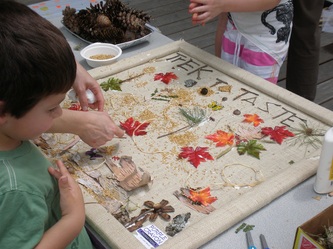 Trek to Present Stewardship Award


The Annette C. Compton Fiertz Trail Stewardship Award, created in honor of the dedicated work of Annette Compton Fiertz (1959-2012) and her efforts in trail stewardship and community engagement for the Woodstock Trails Partnership will be presented at the event. Nominations for the award are open to all individuals, organizations, and businesses that have contributed to the stewardship of trails in the Woodstock trails network. The winner will be recognized at Trek to Taste on June 6, 2015 with a framed print of one of Annette's original watercolor paintings from the overlook on Mount Tom. To submit a nomination, send in your name and contact information, the name and contact information of the person, organization or business you wish to nominate, and a statement of why you feel they should be nominated.

Submissions can be sent to: Jennifer Waite at Marsh-Billings-Rockefeller National Historical Park, 54 Elm St. Woodstock, VT, 05091 or emailed to e-mail us and must be received no later than May 6.


For more event information, visit trektotaste.info/
Loading the player...

Join us for the 7th Annual Trek to Taste June 6, 2015

A celebration of trails, local food, and healthy living. Join us for guided walks starting at 10:30 and noon or grab a map and venture out on your own — choose from four different hike options and along the way sample delicious, heart-healthy foods from local producers. Family games, crafts, demonstrations, ice cream social, music and more. For more information visit: www.trektotaste.info

Duration:

29 seconds

Credit / Author:

Michael Sacco

Date created:

2014-04-28