Starting Wednesday July 23rd Expect Road Closures

July 23rd, Prosper Trail, North Slope & Middle Pass Trails - west side of the park CLOSED for forestry operations. McKenzie Farm Trail & McKenzie Rd will remain open for access between Prosper Parking Lot and the Pogue. CAUTION Heavy Equipment in use!
Volunteer - Walk Woodstock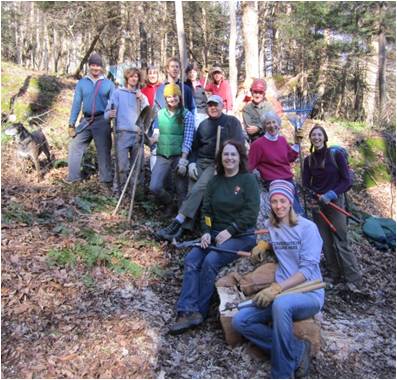 Donna Taylor
VOLUNTEER!


The Woodstock Trails Partnership hosts two trail work days each year in the spring and fall, and sponsors several local trail events. To get involved in these activities or for more information about the Woodstock Trails Partnership contact:


Marissa Jager
SCA Trails Partnership Intern
802-457-3368 ext. 17
Marissa_jager@partner.nps.gov
Did You Know?

Marsh-Billings-Rockefeller NHP and Home of Franklin D. Roosevelt NHS have in common a passion for trees! Marsh-Billings-Rockefeller has the oldest sustainably managed woodland in North America. FDR, an amateur forester, personally supervised the planting of hundreds of trees on his Hyde Park estate.