Trail Stewardship day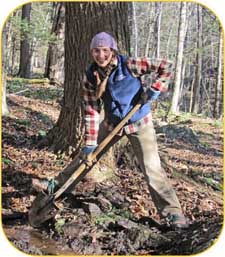 Trail Stewardship Day Planned
Volunteers of all ages are invited to help work on trails with the Woodstock Trails Partnership.
When: 10 a.m. to 12 p.m., Saturday, May 11
Where: Mount Peg Park in Woodstock, Vermont. (Park at the Golf Ave. parking area)
What: A Trail Stewardship Work Day
Volunteers will help with the continued stewardship of a hiking trail and with restoration efforts. Work will focus on clearing the trails of winter blow down and also strategically removing invasive plants to slow their spread and help restore native habitat.
All necessary tools will be provided. Volunteers are asked to bring work gloves, sturdy shoes, water bottle and to dress for the weather.
The event is hosted by the Woodstock Trails Partnership, a coalition of organizations that have come together to enhance the awareness, use and stewardship of our remarkable network of Woodstock trails.
Directions: From the Woodstock Village Green head south down Court Street. At the end of Court Street make a left and then a right onto Golf Ave. Continue on Golf Ave. until you see a small parking area on the left.
For more information, contact Marissa Jager, 802-457-3368 x17,
e-mail us
Did You Know?

The NPS Conservation Study Institute, based at Marsh-Billings-Rockefeller NHP, works with national parks and partners to advance leadership and innovation, and in collaborative conservation for the stewardship of our national system of parks and special places. More...