Trail Projects - Walk Woodstock
Woodstock Trails Partnership:
Trail and Conservation Projects


Faulkner Trail Restoration
Residents and visitors in the town of Woodstock enjoy the 1.7 mile historic Faulkner Trail, whose restoration has begun. The trail was built over 75 years ago by Marianne Faulkner as a tribute to her husband, and has been in use ever since. Today, it connects the Woodstock Trail system with Marsh-Billings-Rockefeller National Historical Park. A Vermont Youth Conservation Crew (VYCC) worked with a trails restoration specialist to repair stonework, clean out stone culverts, and repair trail tread. The restoration is a project of the Billings Park Commission, Faulkner Trust, VYCC, and the National Park Service.


In the summer and fall of 2012, two Vermont Youth Conservation Crews worked on the Faulkner Trail, one a high school crew and the other an experienced group of crew leaders. The high school crew completed technical rock work to reconstruct the historic stone culverts. The leader crew built impressive rock retaining walls to support the gravel surfacing that was hauled in with a power wheel barrow. Trail expert Peter Jensen designed the restoration plan and helped to train the crews in advanced rock work techniques. The ultimate goal is for the trail to be universally accessible up to the beautiful stone bridge half way up the trail, and the rest of the trail restored to a smooth walking surface for hikers. This project is on a five year time line, and the Woodstock Trails Partnership hopes that Vermont Youth Conservation Crews will continue to work on the project each summer until it is complete.


Funding for the project, which will total around $200,000 over five years, has so far come from a variety of sources including a State of Vermont Recreation Trails Grant, the VYCC, the Billings Park Commission, the Faulkner Trust and the National Park Service. Future funding will likely include these sources as well as well as foundation and private grants.


To learn more about the restoration project read Park Ranger Julia Lynam's article, "The Long and Winding Trail."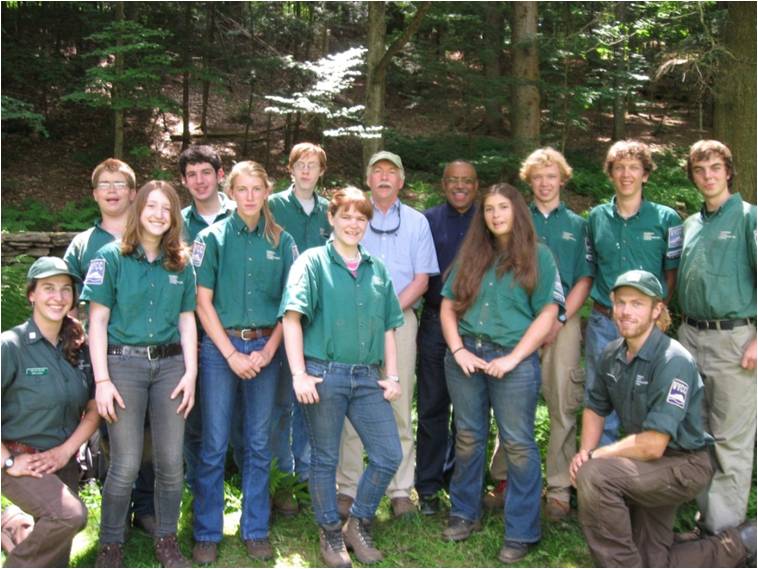 J Waite
2012 VYCC Summer Community Crew at Marsh-Billings-Rockefeller National Historical Park
During the summer months, ten local students ages 16 to 18, worked on a diversity of natural resource management and conservation projects, including invasive plant management, native plant restoration, forest management, trail maintenance, and more. During this program the students developed resource management and leadership skills while making a difference in the community.


The summer crew completed a wide variety of projects on the Marsh-Billings-Rockefeller National Historical Park, and also on the abutting King Farm property. At Marsh-Billings-Rockefeller NHP the crew improved drainage and surface conditions on the One Less Traveled Trail, and completed various resource management projects. At the King Farm property the crew removed invasive species and improved access to a pond along one of the trails.



2012 Student Conservation Association Trail Crew
This past summer a SCA trail crew of ten high school students from all over the country, camped out at the King Farm and worked on the trails at the Marsh-Billings-Rockefeller NHP. They completed some much needed maintenance on trails including One Less Traveled, the Maple Trail and Prosper Trail.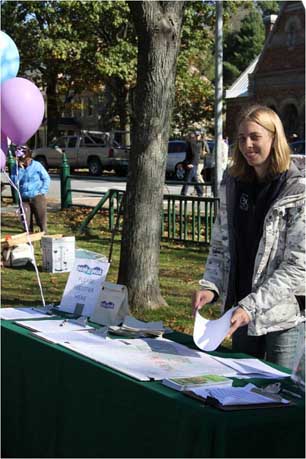 Donna Taylor






2012 Student Conservation Association Trails Partnership Intern at Marsh-Billings-Rockefeller National Historical Park


The yearlong Trails Partnership Intern, Marissa Jager, has been working with the Woodstock Trails Partnership to assist with outreach, coordinate trail work days, help coordinate trail events and celebrations, update the Walk Woodstock map, and work on development of the WTP website. She also has completed an assessment of the Woodstock trails and assists with resource management projects.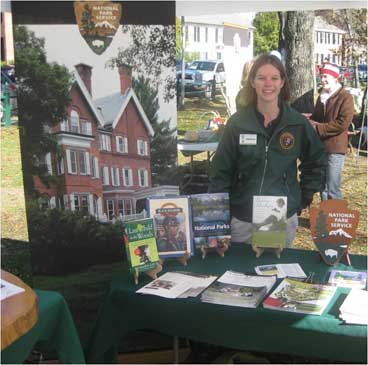 M Jager
2012 Student Conservation Association Resource Management/Interpretation Intern at Marsh-Billings-Rockefeller National Historical Park
The yearlong Interpretation/Resource Management Intern, Amanda Anderson, is working for both the Division of Visitor Services/Interpretation and the Resource Management Departments. During the visitor season the she focused on interpreting the history of conservation and the evolving nature of land stewardship at the Marsh-Billings-Rockefeller National Historical Park, as well as staffing the welcome center desks and interacting with visitors. For the resource management half of the job she is completing field work with a focus on managing invasive species, creating and installing informational signs for forest management activities, data management, and winter ski patrol.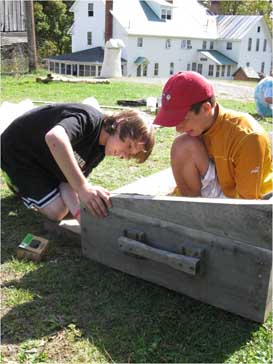 K Robbins
Conservation Leadership Institute
Using the nearby King Farm for their classroom, Woodstock Union High School students study the principles of sustainability that will serve as the underlying framework for their final service learning project. Through field trips, guest instructors, work projects, and hands-on service learning students will learn about forestry, land management, agriculture, natural resources, and energy. Students earn school credit and build an understanding of career tracks in subject areas, develop a resume, and learn about local and national internships and jobs. This program is made possible through partnership with the National Park Service, the Vermont Youth Conservation Corps, Woodstock Union High School, and the Vermont Land Trust


The instructor, Kat Robbins, reports on recent projects:
"This year we have focused on Design and Build projects that connect to Sustainable Agriculture. For example, we designed and constructed a solar dehydrator that we used to dry seeds harvested from our school garden that we will plant again in the spring. We've most recently been working on a River Studies unit, where students have met with scientists, planners, and conservation district volunteers to understand what contemporary issues residents' face when living near, playing or working in rivers. In the spring we will be learning about Renewable Energy and more Sustainable Agriculture."
Did You Know?

In the early 1860s Vermonter Frederick Billings, then living in California, purchased and sent photographs of Yosemite Valley to influential eastern friends to make the case for its preservation. You can see these photographs, and paintings of Yosemite, at Marsh-Billings-Rockefeller NHP.