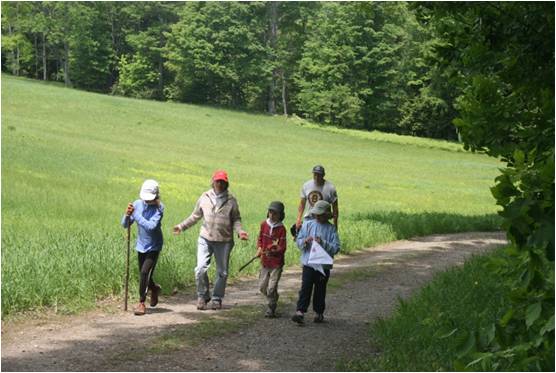 While hiking:
Wear good hiking shoes, stay on designated trails, and carry a few emergency supplies along with adequate water. Be aware of any approaching weather systems and avoid ridgetops during thunderstorms. Leave no trace; pack out whatever you pack in.


Leave No Trace Seven Principles


Hiking Seasons:
Woodstock lies within a temperate zone and experiences four full seasons and hiking is popular throughout the year. Arrive prepared for a wide variety of weather conditions. In winter, trails may be covered in ice or snow. Use crampons or other traction devices for your boots. In autumn, loose, slick leaves on the trail can cause hikers to trip or turn an ankle. Be certain to wear ankle supporting boots. In spring, the snow melt will cause the trail to be soft and fragile. Please stay on the trails during the spring, and try to pick a day after a dry spell to go hiking.
Hiking Regulations:
Remember to help protect your public lands by following these trail regulations.

All trash must be carried out.

All trails are closed to motorized vehicles.
Pets must be restrained and leashed.

Disturbing, destroying, and removing natural and cultural objects is prohibited.