Forest Festival Weekend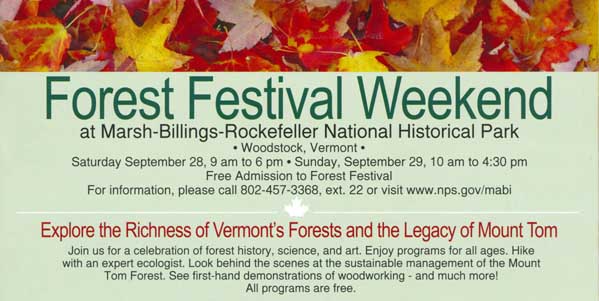 Held in conjunction with the Vermont Fine Furniture and Woodworking Festival.

Shuttle - Experience both events by taking advantage of our free shuttle service - a 30-minute loop from Union Arena to the park, with stops in downtown Woodstock and at the Billings Farm & Museum.

VIEW short film clip below
Loading the player...


Forest Festival Weekend 2013

Forest Festival Weekend September 28-29, 2013

Duration:

30 seconds

Credit / Author:

Michael Sacca

Date created:

2013-04-24
BOTH DAYS - Saturday & Sunday, September 28-29, 2013


Photos credits: John Gilbert Fox
Woodcraft Demonstration
11:00 am to 4:00 pm
Carriage Barn Visitor Center

Join a variety of Vermont woodworkers as they create unique wooden products and discuss the art and value of their sustainable craft. Bowls, baskets, furniture, and other woodenware will be made for all to see.

Portable Sawmill Demonstration
1:00 pm to 4:00 pm
Pony Shed Pasture

A local sawyer will mill logs from the forest, to begin the process of making different wood products, building materials, and furniture. See logs transformed into lumber before your eyes.


NPS Photos
Lost Big Trees
1:00pm
Carriage Barn Visitor Center
Americans are fascinated by the trees of the west. But here in the east we have our own big trees: white pine, elm, hemlock, and the American chestnut. This 1.5 hour program explores the history, ecology, and future of the big eastern trees.
Invasives at Your Doorstep
11:00am-4:00pm
Carriage Barn Visitor Center
Not all green is good. Some plants--and insects--can threaten the health of Vermont's forests. Learn how to spot these invaders and what you can do to protect your woodlands and community parks. Sponsored by the Ottauquechee Cooperative Invasive Species Management Area (OCISMA) Partnership.
Junior Ranger Program: Become a Forester
1:00 pm
Carriage Barn Visitor Center

Are you ready to become a forest steward? Join a ranger to learn how a forester cares for the land through games and activities. Make something special out of wood from the park to bring home. A self-guided Junior Ranger activity booklet is also available throughout the weekend.
Meet the Artist
1:00pm to 4:00pm
Pony Shed Studio
Meet Alastair Noble, this year's artist-in-residence, in his open studio. Alastair is an environmental/installation artist and printmaker from the UK who has lived and worked in New York City for over 30 years. His artistic practice is a response to architecture and the natural environment, and reflects on particular sites in the context of poetry and literature.
Forest Quest (Self-guided)
Carriage Barn Visitor Center
Seek out treasures hidden in the Mount Tom Forest. Activities and riddles will reveal clues to help you unravel the forest's mysteries. This program is appropriate for all ages.
Hands on Wood Crafting
11:00am to 4:00pm
Pony Pasture Area
Children will be able to make their own walking stick, decorate wood medallions, and learn a wooden dice game. And, join a park ranger in a reading of
Daniel and his Walking Stick
by Wendy McCormick.

SATURDAY September 28 ONLY
Birds and the Future of the Forest
1:00 pm
Carriage Barn Visitor Center
Audubon Vermont Conservation Biologist Katie Manaras and Windsor County Forester Jon Bouton join forces for a one-hour hike to explore why our forest provides such excellent bird habitat, and how we can protect and enhance it.
Horse-Powered Logging
10:00am to 4:00pm
Mountain Road
Meet Roz and Jo, a pair of draft horses, as they provide a small-scale alternative to using big forestry equipment. Horse logger Ben Canonica of Chelsea, Vermont will be on had to discuss low impact forestry, directional felling techniques, and answer questions about
forestry
and draft horses.
Understanding the Forested Landscape
Maximum of 15. Reservations recommended.
9:30am to 12:30pm
Meet at Carriage Barn Visitor Center
Wander the woods with Walter Poleman, Field Naturalist at the University of Vermont. Discover the Park's diverse forest communities as you learn to analyze soils, identify plants, and interpret history etched in the land. There will be a 1-hour program indoors followed by a 2-hour walk. Snacks provided.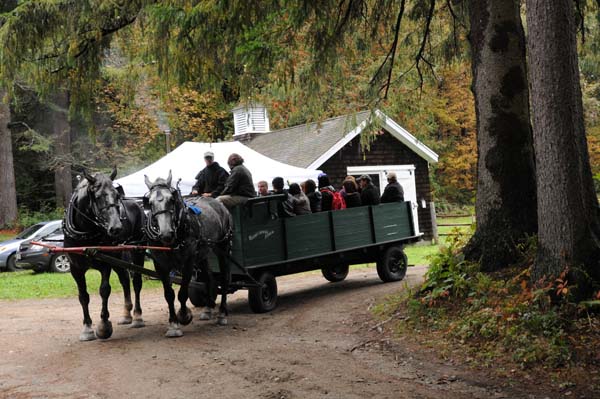 John Gilbert Fox
SUNDAY September 29 ONLY
Horse-Drawn Wagon Rides
12:00 pm to 4:00 pm
Meet at the Carriage Barn Visitor Center

Ride in a horse-drawn wagon with a park ranger to explore areas of the forest. The wagon will leave from the Carriage Barn Visitor Center area and head to the Pony Shed Pasture, where you can see a sawmill in action and explore a unique tree trail. Return trips are also available.
Vermont Atlas of Life
Times & location:
8:00am Birds Forest Center
10:30am Trees Forest Center
1:30pm Bees Forest Center
4:00pm Monarch Butterflies Forest Center (no hike)
Learn about nature and how to contribute your own natural history sightings to the online database
iNaturalist
. Plan on a moderate hike with staff from Vermont Center for Ecostudies. Each program will focus on a particular nature topic.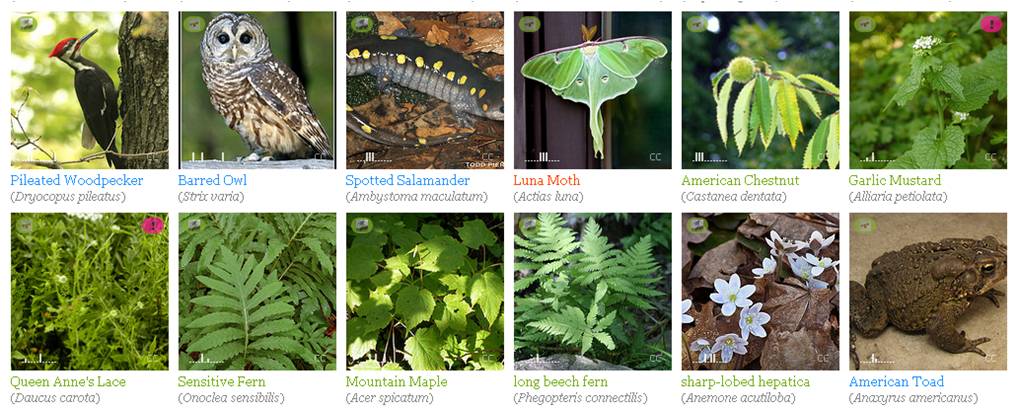 10th Annual Vermont Fine Woodworking & Forest Festival
Held at the Union Arena in Woodstock, September 28-29, 2013 10:00am-5:00pm

Fine furniture and wood products demonstrations

Live music

Woodworking demonstrations

Local food

Hands-on activities for kids
For more information call 802-457-3368 x22 or visit www.vermontwoodfestival.org

---
Did You Know?

In the early 1860s Vermonter Frederick Billings, then living in California, purchased and sent photographs of Yosemite Valley to influential eastern friends to make the case for its preservation. You can see these photographs, and paintings of Yosemite, at Marsh-Billings-Rockefeller NHP.