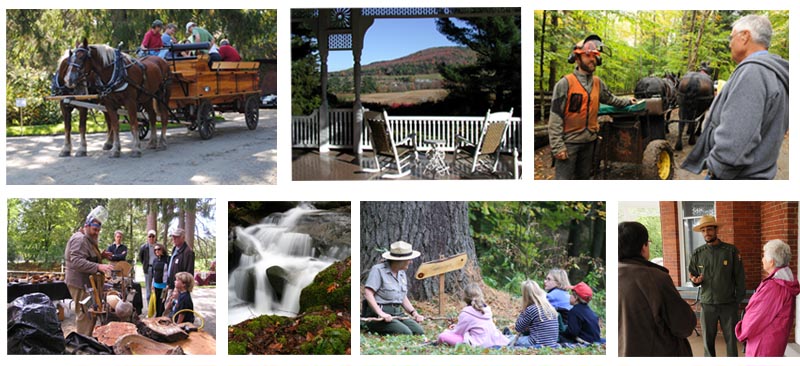 Photos Jon Gilbert Fox

September 26 & 27, 2015
Sat & Sun 10 a.m. - 4:00 p.m.
Explore the park in its fall glory while exploring forest history, ecology and art. Horse drawn wagon rides, woodworking and portable sawmill demonstrations, hikes with foresters, wood crafts for kids, and more! (Park admission and activities free.)

Visit the Vermont Fine Furniture & Woodworking Festival with furniture makers and wood artisans at the Billings Farm & Museum (entrance fee). Vermont Fine Furniture and Woodworking Festival.

A new twist on Forest Festival - We are excited to collaborate with the Billings Farm & Museum on this year's Forest Festival. Enjoy and shop for fine Vermont wood products at the Billings Farm & Museum exhibit hall and grounds then cross the road to the national park for more fun!


View Short Video Clip Below

Loading the player...

Forest Festival Weekend

Forest Festival Weekend Sept 26 & 27, 2015


Duration:

30 seconds

Credit / Author:

Michael Sacco

Date created:

2013-04-24

Photos credits: John Gilbert Fox
Woodcraft Demonstration

Carriage Barn Visitor Center
Join a variety of Vermont woodworkers as they create unique wooden products and discuss the art and value of their sustainable craft. Bowls, baskets, furniture, and other woodenware will be made for all to see.

Portable Sawmill Demonstration
Pony Shed Pasture
Come see logs transformed into lumber before your eyes. Portable sawmills are able to travel to a location with relatively few logs to make lumber that can be used on-site. Sawyers can saw to custom dimensions and generally produce more boards per log than with a conventional sawmill.

NPS Photos
Junior Ranger Program
Location: Meet at the Carriage Barn Visitor Center
Join a Park Ranger for 1 1/2 hours full of activities and games to learn about our very special woodlands and wildlife while earning a Junior Ranger badge.
Forest Quest (Self-guided)
Location: Carriage Barn Visitor Center
Seek out treasures hidden in the Mount Tom Forest. Activities and riddles will reveal clues to help you unravel the forest's mysteries. This program is appropriate for all ages.
Woodworking is for the Birds
Location: Pony Pasture Area
Assemble and take home a birdhouse using lumber harvested and cut here in the park.
Horse Drawn Wagon Rides
Location: Carriage Barn Visitor Center
Ride in a horse-drawn wagon to explore areas of the forest. The wagon will leave from the Carriage Barn Visitor Center. Return trips will also be available.
Hands on Wood Crafting
Location: Pony Pasture Area
Children will be able to make their own walking stick, decorate wood medallions, and learn a wooden dice game.
Horse-Powered Logging
Mountain Road
Meet Ros and Jo, a pair of draft horses, as they provide a small-scale alternative to using big forestry equipment. Horse logger Ben Canonica of Chelsea, Vermont will be on had to discuss low impact forestry, directional felling techniques, and answer questions about
forestry
and draft horses.
Understanding the Forested Landscape (tentative)
Meet at Carriage Barn Visitor Center
Wander the woods with Walter Poleman, Field Naturalist at the University of Vermont. Discover the Park's diverse forest communities as you learn to analyze soils, identify plants, and interpret history etched in the land. There will be a 1-hour program indoors followed by a 2-hour walk. Snacks provided.

Lost Big Trees
Location: Carriage Barn Visitor Center
Americans are fascinated by the big trees of the west. But here in the east we have our own big trees: white pine, elm, hemlock, and American chestnut. This 1 1/2-hour program explores the history, ecology, and future of the big eastern trees.

Birds and Future of the Forest
Location: Carriage Barn Visitor Center
Join a biologist and a forester for a one-hour hike to explore why our forest provides such excellent bird habitat, and how we can protect and enhance it.


12th Annual
Vermont
Fine Woodworking & Forest Festival
Held at Billings Farm & Museum Admission to Festival and Farm (Admission Fee)
Fine furniture and wood products demonstrations

Live music

Woodworking demonstrations

Local food

Hands-on activities for kids
For more information call 802-457-3368 x22 or visit www.vermontwoodfestival.org

---