Schedule Of Events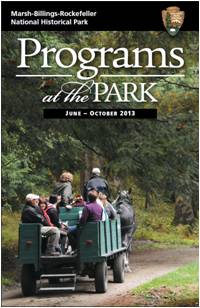 Programs at the Park brochure. Also, search the calendar below for listings.

Mansion Tours- Daily
Ranger-guided tours of the Mansion are offered daily throughout the season: on the hour, 10:00 am to 4:00 pm, May 29-October 31, 2011. Tickets are $8.00 for adults (ages 16-61), $4.00 for seniors (ages 62 and older), 15 and younger are free.
For reservations contact:
Carriage Barn Visitor Center 802/457-3368 ext. 22

Special Tours - Weekly Noon-time
Art, big trees, hidden spaces, garden history, and more! Throughout the week at noon, rangers will offer a special short-tour on one of the parks many unique stories and places. Enjoy these tours on their own or as a compliment to a Mansion tour. Topics and locations change throughout the week - check at the visitor desk of web for details. You never know what you might find!

Tour the Town with a Ranger on the Trolley - Saturdays in July & August 11:15am
Saturdays in July and August, 11:15am meet at the Billings Farm & Museum Visitor Center. Step on board the
Trolley
to learn about the history and happenings of Woodstock.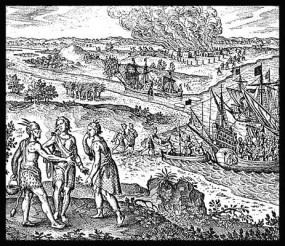 NPS
Conservation Chronicles * - Advance Reservation

From Native Americans to early European settlers, to land trusts, national parks, and wilderness areas, conservation thought and practice has taken many forms in North America over the past four centuries. Using words, images, and films of the past, explore the attitudes and actions that have shaped our relationship with the land we call the United States in this multimedia presentation.

* This tour is available by advance reservation only (802-457-3368 x22)

Search for Events
Sorry, but there are no events between 12/04/2013 and 01/01/2014


Did You Know?

Marsh-Billings-Rockefeller NHP and Home of Franklin D. Roosevelt NHS have in common a passion for trees! Marsh-Billings-Rockefeller has the oldest sustainably managed woodland in North America. FDR, an amateur forester, personally supervised the planting of hundreds of trees on his Hyde Park estate.