Schedule Of Events
Search for Events
Events Upcoming for August
Showing 5 results

 RSS Feed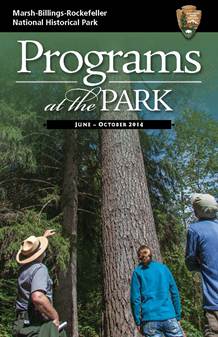 Please search the Schedule of Events Calendar above for all our seasonal listings. Find descriptions of guided tours & activities here.

Download the brochure: Programs in the Park June - Oct 2014
Mansion Tours- Daily
Ranger-guided tours of the Mansion are offered daily throughout the season: on the hour, 10:00 am to 4:00 pm, May 29-October 31, 2011. Tickets are $8.00 for adults (ages 16-61), $4.00 for seniors (ages 62 and older), 15 and younger are free.
For reservations contact:
Carriage Barn Visitor Center 802/457-3368 ext. 22
---
Special Tours - Weekly Noon-time
Art, big trees, hidden spaces, garden history, and more! Throughout the week at noon, rangers will offer a special short-tour on one of the parks many unique stories and places. Enjoy these tours on their own or as a compliment to a Mansion tour. Topics and locations change throughout the week - check at the visitor desk of web for details. You never know what you might find!
---
Coming in Fall 2014: Of Land & Local, an art-tourism project designed by Burlington City Arts,will be on display at the Pony Shed Studio this fall. Modeled on agro-tourism,this state-wide exhibition is a partnership with Burlington City Arts and theVermont State Department of Tourism and Marketing; and is designed to inspire dialogue about issues surrounding the Vermont landscape.
For additional details, visit: http://www.burlingtoncityarts.org/
---
Civil War Homefront self-guided walking tour - free iPhone app
Marsh-Billings-Rockefeller National Historical Park offers a self-guided walking tour through the historic streets of Woodstock, Vermont to explore the Civil War Home Front. Learn about the experiences of civilians and local soldiers swept up in the maelstrom of civil war and better understand the indelible mark the war left on this small community and on the nation. This free iPhone app provides a GPS-enabled, guided walking tour of the historical sites surrounding the Marsh-Billings-Rockefeller National Historical Park and Woodstock, Vermont. The app, currently available only for iPhones, can be downloaded at:
http://itunes.apple.com/us/app/woodstock-vermont-civil-wartour/id546538756?mt=8
---
Conservation Chronicles
This tour only available by advance reservation (802-457-3368 x22)
From Native Americans to early European settlers, to land trusts, national parks, and wilderness areas, conservation thought and practice has taken many forms in North America over the past four centuries. Using words, images, and films of the past, explore the attitudes and actions that have shaped our relationship with the land we call the United States in this multimedia presentation.


Did You Know?

Marsh-Billings-Rockefeller NHP has nearly 400 paintings and prints, including Hudson River School landscapes of places that are now national parks. You can see paintings by Thomas Cole, David Johnson, and Albert Bierstadt of features from Yosemite, Golden Gate, and Grand Teton.