Starting Wednesday July 23rd Expect Road Closures

July 23rd, Prosper Trail, North Slope & Middle Pass Trails - west side of the park CLOSED for forestry operations. McKenzie Farm Trail & McKenzie Rd will remain open for access between Prosper Parking Lot and the Pogue. CAUTION Heavy Equipment in use!
Community Day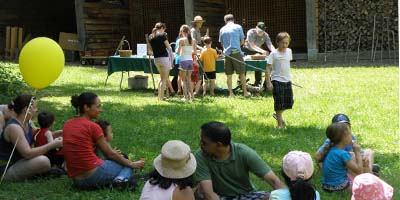 A Anderson
Community Open House & Picnic
will be held from 10:00 AM to 2:00 PM.
Taking a cue from the Bilings Family who regularly hosted summer days of recreation and discovery, the park invites you to join us for family lawn games, art activities, and nature explorations. Special behind the scenes tours will surprise and amaze even our most regular park visitors. Pack a basket for a picnic on the lawn or share afternoon tea with us on the porch.
blank
Did You Know?

Marsh-Billings-Rockefeller NHP offers day hikers nearly 20 miles of carriage roads and trails. Located about a mile from the park, hikers can easily access one of the nation's premier foot trails, the Appalachian National Scenic Trail, which extends over 2000 miles from Maine to Georgia.