Peak to Peak Annual Hike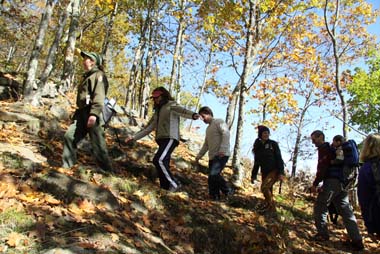 Credit: Donna Taylor Photography
Join Us for the 2nd Annual Peak to Peak Community Hike
The
2nd Annual Peak to Peak Community Hike
will be held on Saturday, October 19, 2013. Starting at the Green, you and your family can hike with a guide or on your own to the top of Mount Tom, Mount Peg or both.
Join the Peak to Peak Challenge at 10am and complete the 5 mile hike up two of Woodstock's most iconic mountains. Shorter guided walks up Mt. Tom and Mt. Peg leave at 10:30am and 12pm and include historical interpretation and activities for kids. At the Green engage with local organizations about hiking, healthy living, history, and nature.
Registration
begins at 10 am and trail snacks will be available for sale on the Green. This fall hike is a chance for those of all ages to appreciate one of Woodstock's greatest resources- its trails. For more information call 802-457-3368 x22.
First Annual Peak to Peak Community Hike
"Take a Hike and Call Me in the Morning"

In a partnership with the Ottauquechee Health Center and other local organizations, Marsh-Billings-Rockefeller National Historical Park in Woodstock, Vermont, welcomed nearly 200 hikers to its first annual Peak to Peak celebration, Saturday October 13, 2012. The partnership with the Health Center promoted outdoor exercise and healthy eating, fulfilling Action #6 of NPS Director Jon Jarvis's call to action: "Take a Hike and Call Me in the Morning!" explained assistant superintendent Christina Marts.

Enthusiastic hikers joined in ranger-led walks on Mount Peg (1080 ft) and Mount Tom (1,250 ft) and the eponymous peak-to-peak hike including both Peg and Tom!

With their spectacular views of the Ottauquechee River, the twin peaks are favorite places for hiking, picnicking and dog-walking, and also provide important foci for interpreting the conservation stewardship history of the area.

For the event, water color paints and supplies were available on both peaks, encouraging visitors to pause, observe, contemplate and interpret the inspiring views for themselves, just as the Hudson River School painters represented in the Park's mansion house collection had done in the nineteenth century. Down on the village green, conveniently located between the peaks, conservation organizations staffed information booths, rangers led children's activities and local high school students prepared and sold heart-healthy food.

Event organizer Marissa Jager, a Student Conservation Association intern at Marsh-Billings-Rockefeller National Historical Park said: "This first annual peak-to-peak celebration was a healthy family-friendly event that emphasized the importance of Woodstock's trail system and gave people a chance to see some of the recent restoration work carried out on Mount Tom's Faulkner Trail by the Vermont Youth Conservation Corps."
Did You Know?

In the early 1860s Vermonter Frederick Billings, then living in California, purchased and sent photographs of Yosemite Valley to influential eastern friends to make the case for its preservation. You can see these photographs, and paintings of Yosemite, at Marsh-Billings-Rockefeller NHP.