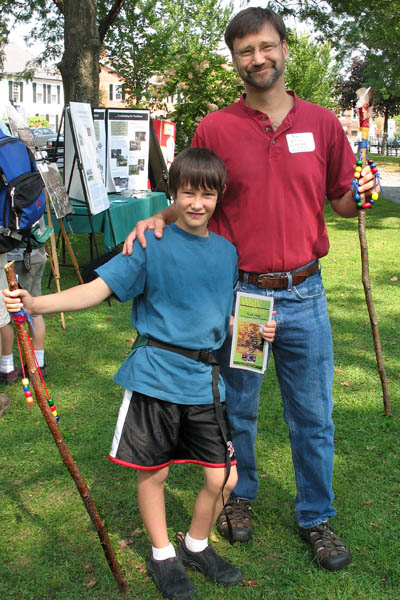 Join Us for the 3rd Annual Peak to Peak Community Hike -->Link to the Brochure
Celebrate fall by enjoying the scenic and historic trails of Woodstock, Vermont during the third annual Peak to Peak event on Saturday, October 18, 2014 from 10 a.m. to 2 p.m. Peak to Peak celebrates the Woodstock tradition of enjoying our trails and landscape while connecting with our community through healthy outdoor activities.
Guided hikes family-friendly activities and crafts, and local historians and naturalists will be on tap to connect you to the scenic mountains and trails of historic Woodstock. Starting at the village green, participants can join guided hikes to the top of Mount Tom or Mount Peg, or grab a map and explore without a guide. Special activities are planned for the top of both mountains, and hikers who reach the peaks will receive a special token. The first 100 hikers who reach the top of both Mt. Tom and Mt. Peg, completing the Peak to Peak Challenge, will receive a prize. The Peak to Peak event is free, and local healthy snacks and food will be available for purchase on the Green between 11 a.m. and 1 p.m.
Guided hikes departing from the village green include:
Mt Peg Walk:
Easy 1.5 mile round-trip. A moderate walk from town, rich with history and great views. Departs at 10:30 a.m. and 12:00 p.m. from the village green.
Mt Tom Hike:
Moderate 3.5 mile round-trip. Hike the gentle switchbacks of the historic Faulkner Trail to South Peak for a panoramic view of the Ottauquechee valley. Departs at 10:30 a.m. and 12:00 p.m.
Peak to Peak Adventure:
More strenuous 5 miles. Summit both Mt. Peg and Mt. Tom, stopping at the Woodstock village green for lunch. Departs at 10:30 a.m.
For more information or to get involved contact Jo Anne Dolan at Marsh-Billings-Rockefeller National Historic Park, (802)457-3368 x17.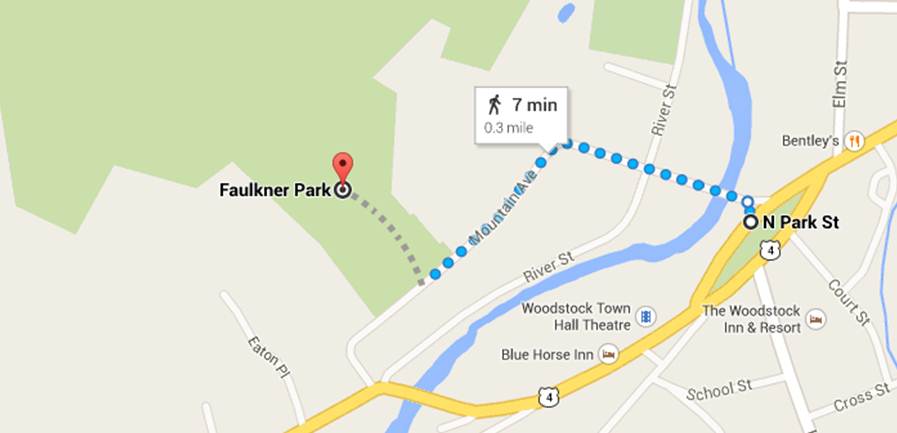 Google Maps
Story Walk at Faulkner Park - Sheep Take a Hike
10:00 a.m. - 2:00 p.m.
Preschool

Take your little ones on a self-guided Story Walk through Faulkner Park at the base of Mt. Tom. Follow the story signs to share a wonderful children's story as you enjoy an autumn day in the park.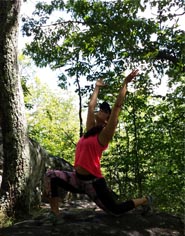 Yoga Hike, Mt. Peg with ArtisTree
Saturday, October 18 10:30 a.m. - 1 p.m.
All ages and levels of experience

Choose a Yoga Hike as part of your Peak to Peak experience. This special hike will incorporate movement, creativity, and the great outdoors while hiking along local trails. The hike leads to an uphill lookout point, where the group will practice yoga and then either draw or write as inspired by the view. Free, but pre-register as attendance will be capped. To register or for more information on the Yoga Hike www.artistreevt.org or info@artistreevt.org.

Move your body in a creative and moving meditation during a yoga hike up the gentle contours of Mt. Peg.

Themed Photography: Foliage Vistas Mt. Tom with ArtisTree
Saturday Oct 18 10:30 a.m.
For ages 12 to adult

Meet on the Woodstock Village Green and hike to Mt. Tom to learn photography techniques with ArtisTree. Bring your camera and explore vistas featuring fall foliage and the natural contours of the Vermont landscape, while learning special techniques to capture the beauty.
http://www.artistreevt.org/themed-photography-series-foliage-vistas/.

ArtisTree/Purple Crayon will be on the Woodstock Village Green Saturday, October 18th from 10:00 a.m.-2:00 p.m., offering children's activities as part of Peak to Peak with the National Park!