Starting Wednesday July 23rd Expect Road Closures

July 23rd, Prosper Trail, North Slope & Middle Pass Trails - west side of the park CLOSED for forestry operations. McKenzie Farm Trail & McKenzie Rd will remain open for access between Prosper Parking Lot and the Pogue. CAUTION Heavy Equipment in use!
Wetlands, Marshes and Swamps
Ed Sharron
The largest wetland feature in the park is the man-made 14 acre pond known as the Pogue. Originally, this area was a swampy depression resting below the parks tallest point. Frederick Billings would later on dam this area creating the pond we see today. The Pogue provides habitat for fish, turtles, frogs, ducks, herons, and otters.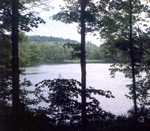 Emily Sloan
How did the Pogue get its name?

The origin of its name is still in question. One theory believes it is derived from an Abenaki word describing the area. Another theory holds that it is an old Scottish word and was given to the boggy area by an early settler to Woodstock. Please note: There is no swimming, fishing, or wading allowed in the Pogue.
Did You Know?

In the early 1860s Vermonter Frederick Billings, then living in California, purchased and sent photographs of Yosemite Valley to influential eastern friends to make the case for its preservation. You can see these photographs, and paintings of Yosemite, at Marsh-Billings-Rockefeller NHP.