Wetlands, Marshes and Swamps
Ed Sharron
The largest wetland feature in the park is the man-made 14 acre pond known as the Pogue. Originally, this area was a swampy depression resting below the parks tallest point. Frederick Billings would later on dam this area creating the pond we see today. The Pogue provides habitat for fish, turtles, frogs, ducks, herons, and otters.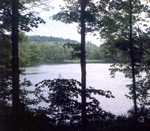 Emily Sloan
How did the Pogue get its name?

The origin of its name is still in question. One theory believes it is derived from an Abenaki word describing the area. Another theory holds that it is an old Scottish word and was given to the boggy area by an early settler to Woodstock. Please note: There is no swimming, fishing, or wading allowed in the Pogue.
Did You Know?

As a teenager, Laurance S. Rockefeller toured Yellowstone, Grand Canyon, and Mesa Verde with Horace Albright. Later in life, Laurance would donate lands to create Virgin Islands NP and Marsh-Billings-Rockefeller NHP. He was the first conservationist to receive the Congressional Gold Medal.