Road Work May 22 -23, 2013

The segment of road between the Mansion and Belvedere buildings will be closed due to scheduled excavation May 22 & 23. Please use caution and alternative routes.
Mercury Project
Mercury Sampling locally
This will be the third year we have received funding from the National Park Foundation to help Woodstock High School students monitor Mercury (Hg) at the Pogue at Marsh Billings Rockefeller National Historical Park and Stevens High School students monitor at
Saint-Gaudens National Historic Site
. Students work in teams to formulate their own questions about Hg in our community and try to test their hypothesis based on the data they collect and other research. The evening presentation of their projects starts out with a keynote presentation by
Dr. Celia Chen, Dartmouth Research Professor
and Ecotoxicologist. After, everyone is invited to walk around and see the student poster presentations and ask them about their work.
Link
to previous years' information.
Click on this link to view this short video of the IES Class Mercury Project at the Pogue at Marsh-Billings-Rockefeller National Historical Park.

Credit / Author:

Kachine Schaible (with footage by Kat Robbins)

Date created:

2012-11-01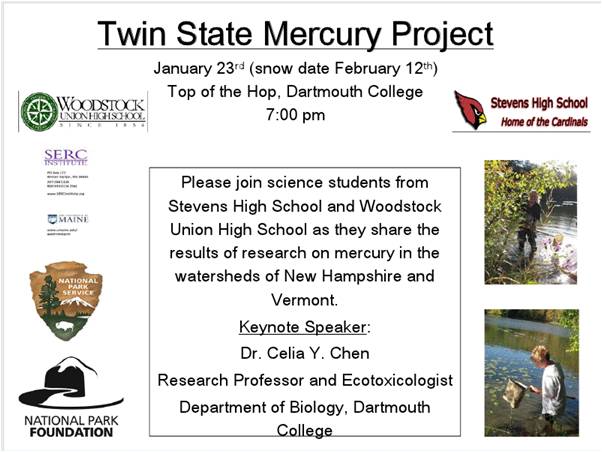 2013 Poster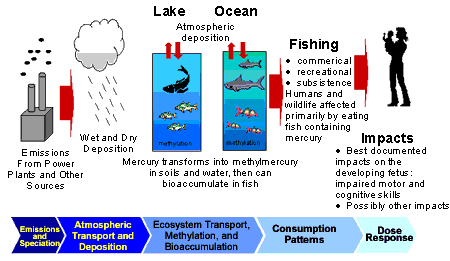 US EPA
Nationally

"
Dragonfly larvae are currently being sampled for mercury levels in national parks. Mercury is a toxic pollutant that can harm human and wildlife health, threatening the natural resources the NPS is charged with protecting. The main source of human-caused mercury in remote national park environments is atmospheric deposition from coal-burning power plants.


National parks from Alaska to Florida and Maine to California are participating in the study. The data are available via the Citizen Scientists Study page link below. Ultimately, results will allow comparisons between parks, and will shed light on ecosystem health by characterizing the risk and potential transfer of mercury around food webs."

Read more details about the National Park Service's study: Citizen Scientists Study Mercury in Dragonfly Larvae

Link to the US Environmental Protection Agency's Mercury exposure pages.

Did You Know?

In the early 1860s Vermonter Frederick Billings, then living in California, purchased and sent photographs of Yosemite Valley to influential eastern friends to make the case for its preservation. You can see these photographs, and paintings of Yosemite, at Marsh-Billings-Rockefeller NHP.