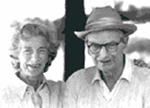 NPS Photo
Then in 1940, Laurance's father, John D. Rockefeller, Jr., established the Jackson Hole Preserve to promote conservation and to protect family land holdings in the Tetons of Wyoming. Laurance became its first president. After he returned from World War II, he began to build upon his father's vision of expanding the national park system by partnering conservation of natural spaces with the provision of tourist accommodation and facilities so that more Americans could experience their country's scenic wonders.
He was almost solely responsible for the creation of Virgin Islands National Park in 1956 and, in 1958, was named chairman of the Outdoor Recreation Resources Review Commission. Under his leadership, the Commission devised a visionary management plan for open space and public recreation. Throughout his career as a conservationist, Laurance articulated a comprehensive approach to land stewardship that combined preservation with public access. In 1991, President George H. W. Bush presented him with the Congressional Gold Medal "in recognition of his leadership on behalf of natural resource conservation and historic preservation."
In Woodstock, the Rockefellers saw a community with many natural resources and a remarkable cultural history. After Mary French Rockefeller's mother died in 1951, she and Laurance inherited the Mansion, remodeled it, and modernized the Billings Farm. In June 1983, the Rockefellers formally opened the .
In 1992, the couple donated the residential property, along with 555 acres of Mount Tom forestland, to the National Park Service, and on June 5, 1998, Marsh-Billings-Rockefeller National Historical Park opened. Today, one of the park's most significant roles is to serve as a tribute to the unique people who resided here and their vision for a world in which man lives in cooperation and harmony with nature.