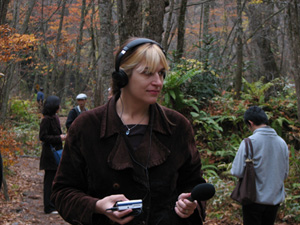 2012 Artist in Residence - Andrea Polli

Andrea Polli is a digital media artist whose work with science, technology and media has been presented widely in over 100 presentations, exhibitions and performances internationally, has been recognized by numerous grants, residencies and awards including a NYFA Artist's Fellowship, the Fulbright Specialist Award and the UNESCO Digital Arts Award. Her work has been reviewed by the Los Angeles Times, Art in America, Art News, NY Arts and others. She has published several book chapters, audio CDs, DVDs and papers in print including MIT Press and Cambridge University Press journals.

She currently works in collaboration with atmospheric scientists to develop systems for understanding storm and climate through sound (called sonification). Polli is also an Associate Professor of Art and Ecology with appointments in the College of Fine Arts and School of Engineering at the University of New Mexico. She holds the Mesa Del Sol Endowed Chair of Digital Media and directs the Social Media Workgroup, a lab at the University's Center for Advanced Research Computing. Polli will use her time at the park this summer to work with sound and other environmental data.
---