Welcome!
This is a space for Windsor Central Supervisory Union teachers and students to share stories about their place-based learning adventures. The National Park is partnering with local teachers in a program called Park Research that allows teachers and students to go deeper in strengthening their connection with their public lands and community through curriculum based learning. Check back here for photos, stories, curriculum, and more!
---
Click on one of the links below to view this short video of the IES Class Mercury Project at the Pogue at Marsh-Billings-Rockefeller National Historical Park.

Duration:

5 minutes, 39 seconds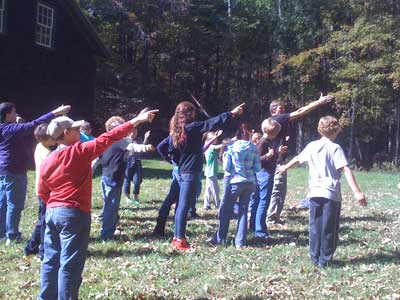 J Haley
WCSU Sixth Graders Are Putting it All in Perspective
"Sight is a faculty, seeing is an art" --George Perkins Marsh
This simple, yet profound, quote was the challenge given to 6th graders and some 5th grades from all six elementary schools in the Windsor Central Supervisory Union. Eighty-one students gathered for four days this fall at the Marsh-Billings-Rockefeller National Historical Park to explore how lenses expand our knowledge of the Universe. They used microscopes, hand lenses, cameras and telescopic images to examine and better understand the "pieces, patterns, and processes" of how our world functions, from the microscopic to the cosmic scale. Students discovered the vastness in a drop of water, the pinprick size of Earth in Space, and the curious similarities and differences between these worlds.
Sam Mitchell, a fifth grader from Reading, noted, "I loved Cosmic Scales this week. My eyes see the world differently. It has taught me to open my eyes to things I would usually not pay attention to. What I liked most was that it left me with questions that will stay with me for a long time."
To create this unique learning experience, teachers from Barnard, Reading, Pomfret, Killington, Bridgewater and Woodstock spent many extra hours planning and collaborating so students could benefit from their combined areas of expertise.
One such learning experience was facilitated by fifth and sixth grade teachers, Patty Collins (Reading Elementary School) and Nancy Boymer (Barnard Academy), as they set up field microscopes by the Pogue to help students investigate how biotic and abiotic matter interacted at very minute levels. Comments such as "The colors of this spirogyra are amazing!" or "Check out the shape of this heliozoa!" were plentiful.
Another full-day activity was led by Ms. Lisa Kaija (art teacher at Killington, Reading and Pomfret) and Ms.Teri Hogan (6th grade, Killington), who taught students about art in nature and how to use the lens of a camera to consider objects from different angles, letting them see things they had never noticed before on the human scale. They analyzed how changing one part of a system -a color, shape, size or texture-could create a totally different composition.
Sixth grade teachers, Jill Kurash (Woodstock) and Corinna Dooley (Bridgewater), hiked with student to South Peak where, looking down on the village of Woodstock, they saw the daily comings and goings of the bustling fall season from a very different perspective. The students wrote in their journals, reflecting on their own interconnectedness with their surroundings and sense of place, and created skits to dramatize different aspects of stewardship.
Aided by an impressive array of photos taken by former students, Pomfret 6th grade teacher Rob Hanson and student teacher Krystal Waite, did not hesitate to stretch the students' minds to the edge of the Universe. Using a combination of kid-friendly software and a solar telescope, students studied celestial bodies that have captured the imagination of humans for thousands years. From the sounds of the "whoaaa's," the wonders of our Universe will continue to be appreciated and pondered for at least another generation.
Claire Coates, a Pomfret 6th grader, summed the experience up nicely when she wrote "The week was really fun because we got to learn what it would be like to be a planet looking out on the black ocean of space, or a tiny microscopic organism living in a "huge" world that to us is only a drop of water. We got the chance to look from a different point of view and become sucked into that world for a day. Thank you for letting us students discover a different perspective and remember that we are small and big, you just have to think about it."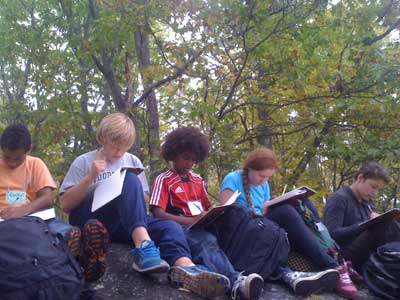 J Haley
Students discovered the vastness in a drop of water, the pinprick size of Earth in Space, and the curious similarities and differences between these worlds. J Haley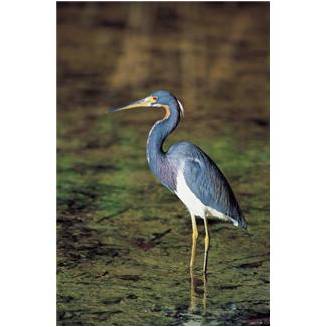 4th Graders Visit!
On Friday, September 14th we went to the Marsh-Billings-Rockefeller National Historic Park. We had an amazing time when we saw old car parts in the woods and the foundation to the McKenzie house. We liked the hike and had a lot of fun drawing in our nature journals. At the Pogue we saw a heron. We learned a lot about what was there before it was a park from Rebecca Phelps, a Vermont State forester. The trip was awesome and we learned a lot!
C. Siegler & WES 4th Grade class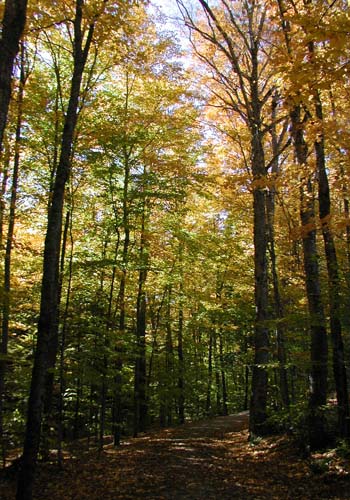 NPS Photo
What better place to learn about the forest ecosystem than in a forest!

On two separate visits to Marsh Billings Rockefeller National Historic Park, Barnard Academy fourth graders learned about tree identification, stewardship, decomposition, and forest succession. With the leadership of a national park ranger and staff, students were guided through several hands-on investigations that challenged their thinking and called on them to use keen observation skills. Students' classroom learning became alive and relevant and their knowledge and understanding deepened with the place-based educational experiences. Hopefully, with their new appreciation and awareness of the interdependence of all living things, the students will join those who came before them in becoming stewards of the land.

~ N. Hopewell, Barnard Academy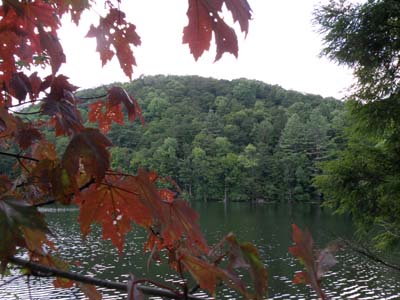 K Jones
A Day at the Pogue

On September 25, 2012 Mrs. Stainton's Integrated Environmental Science classes took a field trip to the Pogue. While there we spent time collecting dragonfly nymphs for a several month long science experiment about mercury in our environment. We will be using dragonfly nymphs because they are relatively high on the aquatic food chain and they don't move from their environment for several years, allowing for mercury to bioaccumulate in their body. Our classes were split up in to 10 small groups and we spent around an hour collecting nymphs. To collect them we used nets to scrap the bottom of the pond to search for nymphs. After collecting our samples we used "clean hands, dirty hands" to make sure our samples wouldn't get contaminated. We will be sending these samples to Dartmouth College to be analyzed and the mercury content found and sent back to us to analyze.

~ G. MacMaster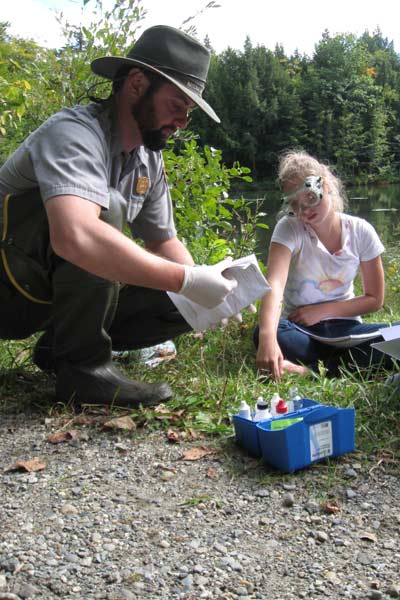 K Robbins
This is the question that 10th grade Biology students from Woodstock Union High School collected data in order to try to answer. Two groups of 30 students hiked up to the Pogue with test kits and plankton nets in tow. Teacher Patty Murray has been coming to the Pogue for years, and is always excited to bring an element of field work into her biology classes.
Students used pond water sample to determine concentrations of dissolved oxygen, carbon dioxide, nitrogen, phosphate, pH, and temperature. They worked on refining their titration and measuring skills, which is tricky business in the field! In addition, students made sensory observations about the pond ecosystem, complete with sketches and area maps. As a follow-up, students will be taking out the microscopes to examine plankton that they captured in small samples. The conclusion of this unit will be a lab report where students argue how healthy they think the Pogue is based on the data that they collected.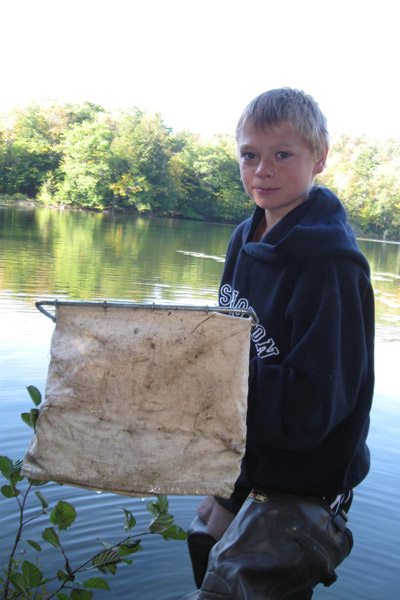 K Robbins
Mercury Monitoring through Partnerships

Hip waders on? Check. Data sheets in hand? Check? Sterile gloves, ziplocs, and spoons? Check. Macro-invertebrate guides? Check. Willingness to wade in the muck of the Pogue with a net and autumn leaves drifting down? Check.

Environmental Science students from both Woodstock Union High School and Stevens High School (in Claremont, NH) are participating in a joint research project funded by the National Park Foundation and supported by Dartmouth College, the Schoodic Education and Research Center, and Saint Gaudens and Marsh-Billings-Rockefeller National Historical Parks.

Students will become stewards of the environment by developing testable hypotheses about how mercury moves through the environment with a focus on dragonflies. So, armed with all of the necessary equipment, students took to the water to collect dragonfly nymphs that will be sent off to Dartmouth for analyzing. This process will involve freeze drying, digesting them in acid, nebulizing and analyzing by Mass Spectroscopy in the Trace Element Analysis Laboratory. Once the results are received, students will use the data to determine if their hypotheses are correct.

On January 23, students will present their findings in a poster presentation at Dartmouth-check back later in the year for more details about this exciting event!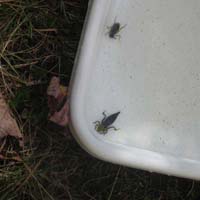 K Robbins
Mercury write-up

As an incoming freshman to Woodstock Union High School, I am truly looking forward to the Mercury Project. The Mercury Project is a service-learning collaboration between my school, the Marsh-Billings-Rockefeller National Historical Park, and Dartmouth College. The ninth grade class studies mercury and its effects by conducting research at the park and throughout the community. Now, I usually am not too enthusiastic about digging through soil and coming in contact with dragonfly nymphs, but this program is the exception. This is because the experiments produce information that is important to our knowledge of this toxic element. For example, a friend of mine, who is now a Junior and was involved with the first year of the project, worked on an experiment that studied if the amounts of mercury in humans vary depending on if they are omnivores or vegetarians. The result of her experiment--more mercury was found in omnivores-- is something that people truly want to know. My friend encouraged me to try to collect more data this year to see if her findings are accurate. She is still interested in learning about mercury in our environment!

In addition to affecting our natural world, mercury studies impact myself and other humans. This motivates me to learn about mercury, because, well… who doesn't want to find out if there is a large amount of a toxic substance inside of them? Furthermore, I want to find how to limit and prevent mercury from entering my system. I am also looking forward to working with Steven's High School in Claremont, New Hampshire. They are studying mercury in Saint-Gaudens National Historic Site. It will be awesome to compare our data and work with students from a different state. Last, but not least, I am so excited to present our studies at Dartmouth College where members of our community, along with other professionals, will attend to listen about what we've learned.

So, I would like to conclude by saying how grateful I am to the science department at Woodstock Union High School, the Marsh-Billings-Rockefeller National Historical Park, and the National Park Foundation for giving our class the opportunity to do this project. I can't wait to start my research!

- Carmen Bango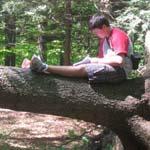 K. Robbins
Frost, Dickinson, and WUHS students in Dialogue on the Trail

What would Robert Frost, Emily Dickinson, and a 10th grade student from Woodstock Union High School talk about if they came together in conversation? Come to this year's Trek to Taste event on June 2 and find out!

Martha Perkins' American Lit students have been studying the poetry of Robert Frost and Emily Dickinson with a goal of learning to trust in his or her own mind to play with the imagery, diction, syntax and punctuation a poet presents in order to make meaning or sense of the truth a poet conveys via his/her poem. In addition to learning about the poets individually, students have been thinking about how these poets might converse with each other.

As a means of putting these poets in dialogue, students visited the park to explore how place can influence conversations and reveal understandings about an individual's interior, spiritual, or private aspects of being. They roamed the trails to pick out places that inspired them or somehow connected to the poetry they'd been studying. In these spots, students wrote, reflected, and photographed.

The next stage in the process will involve students creating their own 're-vision', or 20th century version of the Frost and Dickinson poems they have chosen to work with and juxtaposing the three in a chosen location at the National Park. Finally, students will create a tour of the poems that they will be on hand to guide visitors through during Trek to Taste.

Ultimately, through this project, we hope the students begin to understand how on one level, stewardship and sustainability are about an individual's ability to be in some kind of "dialogue" with the Natural World.

---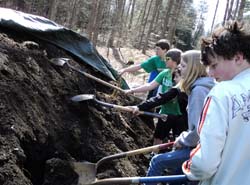 K Robbins
Sustainability is about making choices

Solar kiln, compost pile, Garn wood boiler, Norway Spruce plantation. These are just a few of the spots that seventh graders from Woodstock Union High School toured at the National Park earlier this month. They are embarking on a unit of study that focuses on defining 'sustainability' and identifying how that theme or goal plays out in the state of Vermont. At the park, students engaged in conversations about choice, resources, decision making, and limits. They eagerly explored different systems that the park has installed with an eye toward becoming more self-reliant and reducing fossil fuel use. At each stop, students took photographs that helped them define what made the system sustainable, or not. Finally, some reflected on decisions that they make in their own lives and what factors influence these choices. It's just the tip of the iceberg, but students will continue to ask questions about what 'sustainability' really means, for themselves, society, and corporations.

---
Student Science

For the past couple of years local environmental science students have been involved in mercury monitoring projects at the park. Read more about how these High School science students have shared the results of their research at Dartmouth College. Read More

Sampling

Students sampled pond water to determine concentrations of dissolved oxygen, carbon dioxide, nitrogen, phosphate, pH, and temperature. They also used microscopes to examine plankton.

Salamanders

Check out this Salamander Monitoring video by the Pomfret School 6th grade! Read More

Sustainability

"My Green Park" by Marsh-Billings-Rockefeller National Historical Park won awards in the following categories: Community/Partner Engagement – 1st Place; Interpretation of Projects to Visitors – 2nd Place; Quality and Innovation of Project - 3rd Place Read More