For Kids
Junior Ranger Self Adventure
Stop at the Carriage Barn Visitor Center to receive your free Junior Ranger book or download the pdf version (1.9 MB). To earn your badge hike the Junior Ranger Loop around the mansion and through the forests. Complete activities along the way, interview a park ranger, and return to the Visitor Center to be sworn in as a Junior Ranger.

Attend a Junior Ranger Program
Throughout the summer join a park ranger for a special kids' program with topics exploring everything from art to bugs and orienteering to flowers. Please call the park visitor center (802) 457-3368 ext. 22 for a current list of Junior Ranger programs or click here.

Check-Out a Family Backpack
Go out and explore the park on your own! Stop by the Carriage Barn Visitor Center to check-out a Family Backpack. Four different backpacks explore the topics of trees, art, recreation, and wildlife through activities, games, guidebooks, and crafts.

Take a Self-Guided Quest
Using a guide filled with clues, activities, and a map, explore the park through several different hikes. Choose from: Forest Quest, Northwoods Walk, Tree Walk, and Robert Frost Walk and discover a great way for families to engage youth in exploration.

Other quests are available throughout the Woodstock area. Please contact Valley Quest for more information at 802-291-9100 x107 or visit their website: www.vitalcommunities.org/valleyquest/

Visit Billings Farm and Museum
Enjoy a variety of family focused activities and events while exploring one of the few historically operating dairy farms in America and a museum of Vermont's rural past as a gateway to Vermont's rural heritage. Billings Farm features many aspects of farm work, including care of the Jersey cows and other livestock, milking of the herd, crop rotation, and feed production. For more information visit: www.billingsfarm.org or call 802-457-2355.

SUMMER CAMP PROGRAMS

Mountains and Rivers Forever
blank A seven-day summer camp adventure for middle school students in the National Park and surrounding area, including an overnight camping trip. With a focus on instilling values of personal responsibility, hard work, outdoor enjoyment, education, and respect of the environment through a variety of conservation and farming experiences. Please call 802-457-3368 x55 for more information or download brochure.

Purple Crayon
Fun in the Forest Camp for ages 3-5 years. Students learn about the forest through music, movement, art creation, outdoor exploration and play. Each day includes 1½ hours of music, movement, and art and 1½ hours outdoors with a National Park Ranger. Call 802-457-3500 for more information.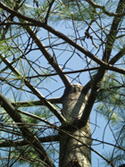 NPS Photo
Forest Quest
Seek out treasures hidden in the Mount Tom Forest! Activities and riddles will reveal clues to help you unravel the forest's mysteries. This two-hour family-oriented hike is held several times a season. Check out the schedule of events, or call 802-457-3368 ext 22. It can also be self-guided. Pick up a copy at the Carriage Barn Visitor Center, or print it at home (make sure to get both documents):
Page 1: Map and Directions (pdf - 56kb)*

Pages 2-4: Clues (pdf - 160kb)*
*(PDF files require Adobe Reader for viewing. Download it for free here.)


Did You Know?

As a teenager, Laurance S. Rockefeller toured Yellowstone, Grand Canyon, and Mesa Verde with Horace Albright. Later in life, Laurance would donate lands to create Virgin Islands NP and Marsh-Billings-Rockefeller NHP. He was the first conservationist to receive the Congressional Gold Medal.