Starting Wednesday July 23rd Expect Road Closures

July 23rd, Prosper Trail, North Slope & Middle Pass Trails - west side of the park CLOSED for forestry operations. McKenzie Farm Trail & McKenzie Rd will remain open for access between Prosper Parking Lot and the Pogue. CAUTION Heavy Equipment in use!
Be A Junior Ranger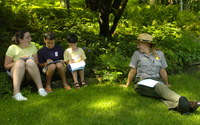 Jon Olender/Rutland Herald
Junior Ranger Program
Complete activities with a park ranger that will help you learn about this special national park and earn you a Junior Ranger Badge! The program, good for ages 7-12, is held several times a season. Click here for the schedule of events, or call 802-457-3368 ext 22. It can also be self-guided and is available at the Carriage Barn Visitor Center.

Marsh-Billings-Rockefeller National Historical Park Junior Ranger Book (pdf 1.9MB)
Did You Know?

As a teenager, Laurance S. Rockefeller toured Yellowstone, Grand Canyon, and Mesa Verde with Horace Albright. Later in life, Laurance would donate lands to create Virgin Islands NP and Marsh-Billings-Rockefeller NHP. He was the first conservationist to receive the Congressional Gold Medal.