Civil War Home Front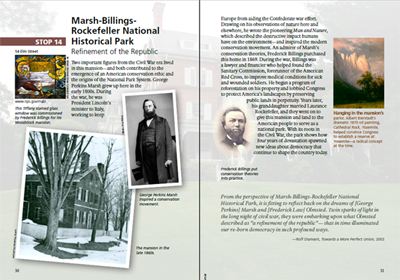 New 32 page color booklet available
Marsh-Billings-Rockefeller National Historical Park is pleased to announce the release of a new Civil War history resource, a 32-page color booklet titled "A New Birth of Freedom: A Walk Through the Civil War Home Front in Woodstock, Vermont." Visitors can use the booklet to take a self-guided walking tour of the town of Woodstock that highlights local contributions to the war.
Woodstock was home to the state's chief military administrative officer, the Adjutant General, making it the center of Vermont's war effort. Woodstock was also home to several other important figures during the war: Senator Jacob Collamer, one of President Lincoln's key allies in the senate; George Perkins Marsh, the minister to Italy during the war, who helped keep European nations from supporting the Confederate cause; Frederick Billings, who raised impressive sums of money for the Sanitary Commission to improve the lives of soldiers; and eleven African American soldiers who fought with the famed Massachusetts 54th Regiment. The impact of the Civil War on the concept of public lands and conservation is also explored.
The booklet, designed by Wood Ronsaville Harlan, Inc. and written by Jill Jasuta, was completed through a project agreement with Harpers Ferry Center. To obtain a copy of the booklet, email Laura Anderson or you can download a PDF version here.

---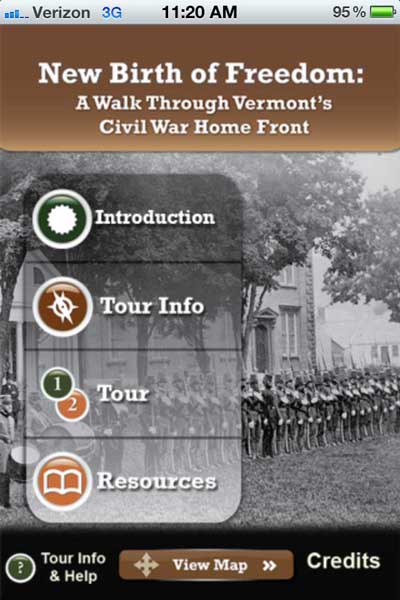 Free iPhone app

Marsh-Billings-Rockefeller National Historical Park offers a self-guided walking tour through the historic streets of Woodstock, Vermont to explore the Civil War Home Front. Learn about the experiences of civilians and local soldiers swept up in the maelstrom of civil war and better understand the indelible mark the war left on this small community and on the nation. This free iPhone app provides a GPS-enabled, guided walking tour of the historical sites surrounding the Marsh-Billings-Rockefeller National Historical Park and Woodstock, Vermont. The app, currently available only for iPhones, can be downloaded at:
http://itunes.apple.com/us/app/woodstock-vermont-civil-wartour/id546538756?mt=8
Did You Know?

The NPS Conservation Study Institute, based at Marsh-Billings-Rockefeller NHP, works with national parks and partners to advance leadership and innovation, and in collaborative conservation for the stewardship of our national system of parks and special places. More...