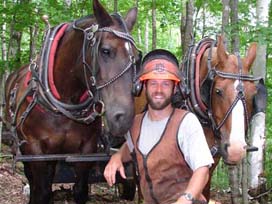 John Gilbert Fox
During daily tours at Marsh-Billings-Rockefeller National Historical Park (MBR), Rangers describe the wooded site to visitors as "America's oldest continuously managed forest." Planted in the late 1800s and early 1900s by the Billings family and later donated to the National Park Service by Mary and Laurance Rockefeller, the 555 acre forest surrounding Woodstock's Mount Tom is an experiment in woodland management that has lasted over a century. Today, its primary steward is the Park Service, which continues the tradition of active forestry. This month that tradition will once again come to life as the Park begins forestry work in three stands of trees.
MBR's Natural Resources Manager Kyle Jones explains that the park's forest is divided into 50 stands, each of which is assessed every five years to determine if forest management is needed. Priority is given to the densest stands, where competition among trees for soil and sunlight is most intense. "Resources are divided among all the trees," says Jones. "If we remove unhealthy trees, the healthy ones are more likely to thrive."
Trees harvested from the thinning will be sold to local sawmills, fuel pellet makers, and woodworkers such as Charles Shackeleton of Shackleton-Thomas. Wood harvest from the park is Forest Stewardship Council® certified (FSC®C004011)—the park is one of the only federal lands to hold such distinction. FSC® certification encourages the highest standards of woodland management through credible, independent evaluation and verification of exemplary forestry practices.
The selection of trees was made with the help of Redstart Forestry, a company based in Corinth, Vermont that serves as forestry consultant to the Park. The logging will be carried out by LongView Forest Contracting, selected in part for their ability to perform the job with minimum impact on the forest. Removal of the understory—shrubs and mid-level trees will be minimized to preserve important bird habitat. To reduce disturbance of the soil logs will not be dragged out of the forest, but carried on a tracked truck, called a forwarder.
In keeping with MBR's status as a National Historical Park, some of the logging along the main carriage road will be done as it was in the 1800's--using horses to transport the felled trees. Throughout several weeks in September public horse logging demonstrations will be provided by Ben Canonica, of Chelsea, Vermont, and his team of draft horses.
For Marsh-Billings-Rockefeller, the sustainable management of the woodlands is just as much of a goal as the preservation of the mansion and gardens. Jones says that for some people, the idea of a National Park cutting trees may seem strange. Yet demonstrating active forest management is one of the main reasons for MBR's existence as a National Park. "We were established with the understanding that we would continue the nearly 150 year tradition of practicing forest stewardship started by Billings and continued by the Rockefellers," says Jones. "Other National Parks don't have that mandate."
For a schedule of horse-logging demonstrations and forestry walks or updates on carriage road and trail detours, visit the park's website at www.nps.gov/mabi or call 802-457-3368 x22.