Allagash Wilderness Waterway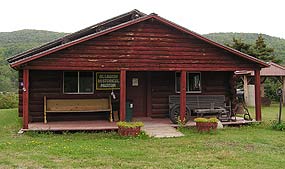 NPS/Meg Scheid
Museum Hours
Memorial Day to Labor Day: Fridays, Saturdays, and Sundays, 1-5 p.m.
At the Allagash Historical Society Museum on Route 161, artifacts are displayed relating to work in the surrounding woods and the area's Scots-Irish population.
The Allagash Wilderness Waterway, located to the south and west of the St. John Valley, is enjoyed by canoeists, anglers, hunters, and nature enthusiasts.
Did You Know?

The log blockhouse in Fort Kent, Maine, was built for the "Bloodless" Aroostook War that included a brief period of armed conflict followed by several years of diplomatic disputes and negotiation between Great Britain and the United States. Today the fort is a state-owned national historic landmark.