Timeless Christmas Activities Postponed

Due to the winter weather forecast for December 7, the Timeless Christmas activities in Johnson City are being postponed. Please join us on December 14 from 6 - 9 pm for evening tours of the Boyhood Home and cider and cookies at the Johnson Settlement.
Visiting the Johnson Settlement
Lyndon Johnson's grandfather and great-uncle established a cattle droving headquarters in the 1860s on land that is now part of Johnson City, Texas. Their log cabin and subsequent barns, cooler house, and windmill still stand. There is also a modern exhibit center focusing on the cattle business, early Johnson family and settlement history, and Hill Country survival. A chuckwagon and longhorn cattle round out the "cowboy" atmosphere.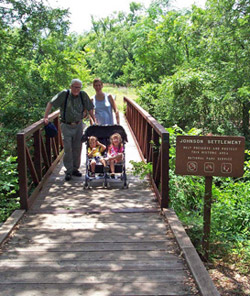 How to Get There
To reach the Settlement, take a self-guiding nature trail from the Visitor Center. The easy round-trip trail is less than a mile long.
For those traveling west on Highway 290 from Johnson City towards the LBJ Ranch, there is also a marked pullout where visitors may park their cars and walk into the Settlement.
Did You Know?

Lyndon Johnson's birthplace was reconstructed in 1964 at his request. It looks nicer than the original house and was used as a guest house on the LBJ Ranch. Lyndon B. Johnson National Historical Park More...