Visiting the Boyhood Home
The President lived here from the age of five until his high school graduation in 1924. The home is furnished in the early to mid-1920s period and as such depicts a rural Texas lifestyle of 75 years ago.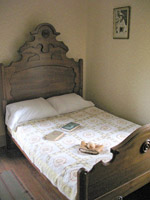 Guided Tours
Park rangers give free guided tours of the home starting every half hour:
9:00 a.m. - 11:30 a.m.
(closed for lunch)
1:00 p.m. -4:30 p.m.
To take the tour, meet the ranger on the front porch a few minutes before the next tour is scheduled to start.
Did You Know?

The cattle on the LBJ Ranch are descended from the same bloodline as the herd that Lyndon Johnson owned. They look more like 1960s Hereford cattle and so they can be called "history on the hoof." Lyndon B. Johnson National Historical Park More...