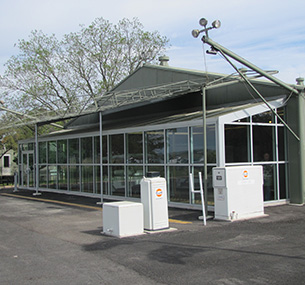 To see the LBJ Ranch and the
Texas White House:
Obtain a free driving permit at the LBJ State Park and Historic Site Visitor Center. You will also receive a map indicating the tour route.
A CD containing narrative audio for the tour is available for purchase in the bookstore and comes with a bonus DVD filled with videos and photos.

Once you arrive at the Texas White House, obtain a ticket for a house tour at the Airplane Hangar.
Fee:
Ages 18 and older: $3.00
Ages 17 and younger: free
House Tour Length and Group Size:
House tours are 30 minutes in length.
There is a limit of 12 people per house tour.
Hours of Operation
Seven days a week. Closed Thanksgiving, Christmas, and New Year's Day.

Driving Permits are given out starting at 9:00 a.m. No Permits are given out after 4:15 p.m.

Ranch Entrance Gate: open 9:00 a.m. to 4:30 p.m.

Ranch Exit Gate: Closes at 5:30 p.m.

House tours: 10:00 a.m. to 4:30 p.m.
In order to take the last tour (4:30 p.m.) of the Texas White House it is advisable to pick up your driving permit no later than 4:00 p.m. to allow for drive-time from the State Park visitor center to the Texas White House.